Summer is here, and it's time to bring the party outdoors. But is your backyard ready for entertaining? Here are some simple, stylish elements to help spruce up your outdoor living space just in time for your next get-together!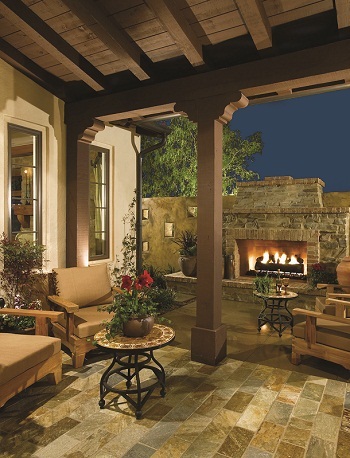 Lighting
It's one of the easiest ways to alter the ambiance of your patio, deck and/or yard. Outdoor options range from elaborate chandeliers to DIY "candeliers" to strategically placed lanterns and decorative wall sconces. If your home doesn't already have one, consider adding an outdoor fireplace, chimenea or fire pit, which can provide light, heat things up when temps dip in the evenings and serve as an ideal gathering spot for guests (s'mores, anyone?).
Need a quick fix? Illuminate your outdoor space for an impromptu party by placing tea light candles inside of small mason jars (both are typically available at craft stores) and suspending them from tree branches!
Furniture
Consider the size and layout of your living space—and the type of gatherings you plan to host—when selecting furniture for your outdoor area. Short on space and have just a few intimate dinner parties scheduled this summer? Opt for a charming bistro set or a small table that seats four. Plenty of room and plans to entertain on a grand scale? Consider an expansive farm table, plus additional seating, like an outdoor sofa, sectional or daybed. There's a wide array of materials (e.g., wood, wrought iron, wicker, fabric) to choose from, so be sure to select a finish that suits your style and pieces that are designed to withstand the elements.
Helpful hint: Keep a few outdoor folding chairs and seat cushions handy in case you have to accommodate more guests than you had anticipated!
Décor
Your outdoor living space is truly an extension of your home (and your unique personality). So don't be afraid to decorate your "room without walls" like you would any room inside your abode. That means anchoring seating areas with decorative all-weather area rugs and adorning exterior walls with artwork that speaks to you. To keep your outdoor living room chic, comfortable and clutter-free, look for items that are both practical and stylish, like a beautiful bench with a hidden storage compartment or this elegant beverage tub, which does double duty as décor. A tasteful tip: Tablescapes aren't just for indoor dining. Dress up your outdoor table with sophisticated fabrics and glassware and create a stunning centerpiece with flowers straight from your garden!
Greenery
And speaking of flowers, they are a simple, surefire way to enhance your outdoor living space. Add a splash of color with impatiens, geraniums, pansies or petunias…the choices are infinite. Visit a nearby nursery or speak with local landscaper to find out which species of plants will thrive in your conditions and climate. Beyond flower power: You don't have to limit your plantings to flowers. Now might be the perfect time to start that herb or vegetable garden you've been dreaming of!
Looking for more decorating or entertaining ideas? Browse the Homeowner Resources section of our blog and follow us on Pinterest!