Gathering friends and family to watch Sunday's big game? Serve up these quick and delicious snacks to score points with your starting lineup: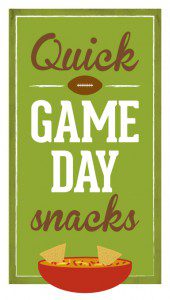 Triple Pork Sliders from The Food Network.
Kick off your pigskin party with this winning combination of garlic, shallots, pork, chorizo and savory applewood smoked bacon. Add a dab of the accompanying smoked paprika mayonnaise to please even the most discriminating football fans!
Caramelized Chicken Wings from AllRecipes.com
It just isn't game time without a massive mound of mouthwatering wings, and this simple, flavorful recipe will be the hit of your huddle. Honey, peanut butter, soy sauce and minced garlic converge to create tasty, tangy wings that will earn more cheers than the star quarterback.
Big-batch Chili from My Recipes
This hearty slow-cooker chili is a snap to prepare! Diced tomatoes, chopped onions, minced garlic and paprika join forces with ground beef and red kidney beans to create a savory snack that will send your party into overtime. Tip: Step up your game by serving in individual dinner rolls!
Cobb Salad Dip from Chow
No more fumbling to prepare the perfect dip. With avocado, blue cheese, sour cream and, of course, bacon, this unique spin on the classic cobb salad offers the traditional flavor your friends and family crave—and they won't even have to take their eyes off the TV set! Tip: Serve with chips, crackers or celery (for health-conscious guests).
Loaded Nachos from The Pioneer Woman
If savory, satisfying nachos aren't part of your game plan, you may want to revise your snacking strategy. Your guests will be wowed by the delicious combination of onions, chili powder, paprika, crushed red pepper and jalapenos. Tip: Double the beans and eliminate the ground beef to score a touchdown with vegetarian pals.
Crab Dip from addapinch.com
Game on! Sweet jumbo lump crabmeat is the MVP of this top-ranked recipe, which also calls for onion, minced garlic, hot sauce and mayonnaise. Caution: Guests may find it difficult to focus on the field with this delicious dip in play!
Jalapeno Poppers with Lime Cilantro Dip from Taste of Home
Looking for a game day snack with a little kick? These palate-pleasing poppers combine cilantro, garlic, cheese, panko breadcrumbs and jalapenos for a creamy, crunchy snack that'll get your guests fired up for the gridiron. They're the perfect football finger food!
Fudgy Football Brownies from Better Homes and Gardens
End the big game on a sweet note—regardless of the final score! These fudgy, flavorful brownies combine eggs, butter, flour, sugar, vanilla and, of course, chocolate for a delicious and eye-catching dessert that's in a league of its own!
Enjoy the big game, check out our game day snacks Pinterest board and keep following our blog for more winning recipes and homeowner resources!