What's one of the first things you see when you walk up to your home? The front door! No home is complete without a front door to welcome you, your family and your guests inside. You know what they say—first impressions count!
Let your home stand out by choosing a front door design that reflects your style. Not sure where to begin? Keep reading to discover just how many options you have when it comes to designing your dream front door.
Start with the style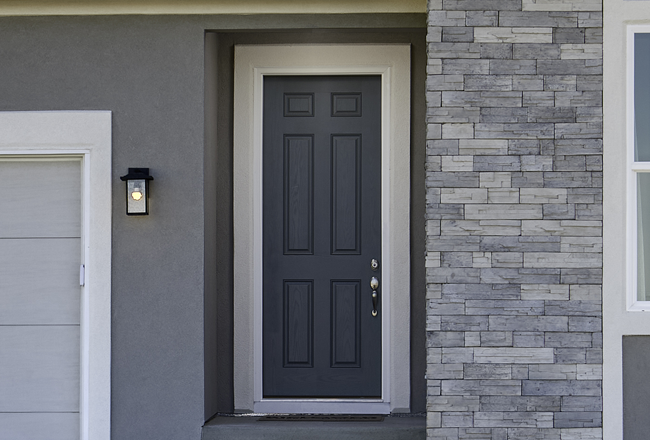 The standard front door of a Richmond American home is typically a 6-panel design painted to match the exterior of your home. Sturdy and classic, this door is a great selection that will fit with any home. However, if you're looking for something a bit more unique, we also offer a range of appealing upgrades for your front door, depending on what's available in your area.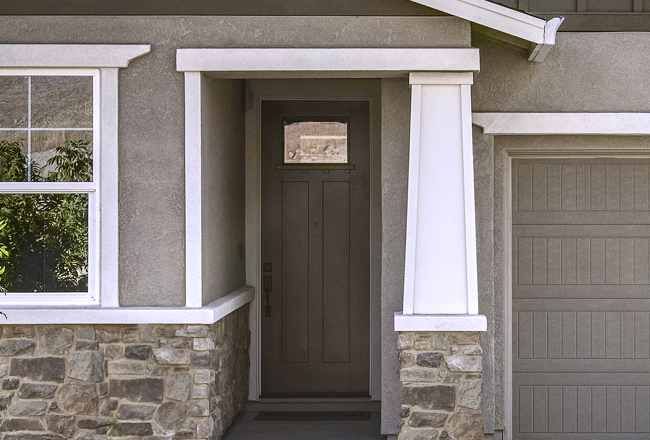 One option is the 2-panel door, a simple but elegant variation of the standard door. The 2-panel comes in a variety of styles, including square and arch options, but one of the most popular upgrades is the 2-panel Craftsman Shaker with glass.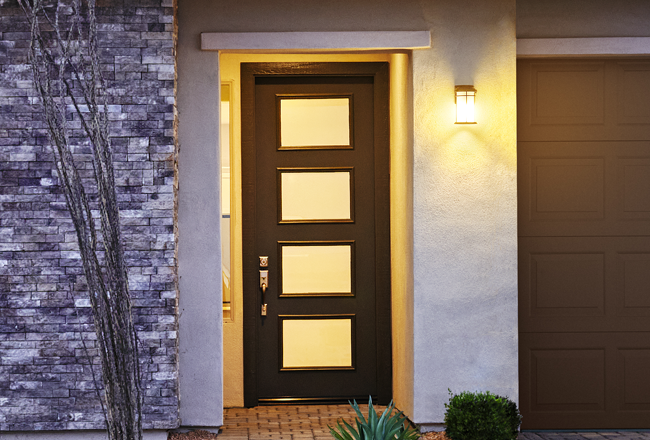 Love the glass but not looking for a 2-panel door? There are several other beautiful glass options, including the highly sought-after Ari Satin Etched door, which features four panels of opaque glass.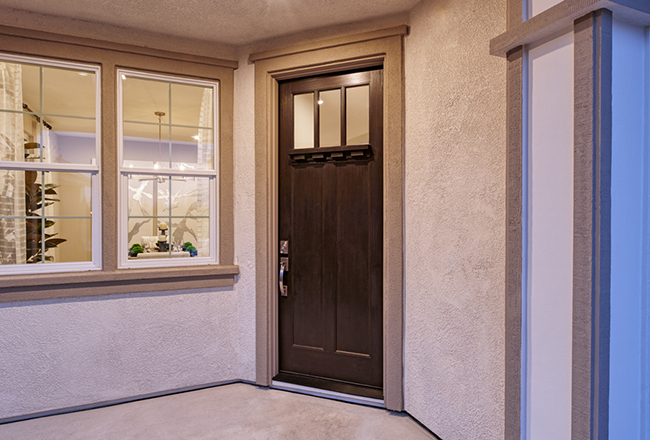 For a more rustic look, consider choosing a stained door over a painted one. The dark, rich color lends itself to a more natural appearance and can really help your home's entry stand out. Stained doors come in many of the previously mentioned styles, like the plank, panel and arch options.
Traditional vs. Modern
An important factor to consider when choosing the style of your front door is whether you'd like a traditional or modern look, or something in between. Traditional front doors typically feature raised panels, while contemporary door styles, such as plank doors, are more minimalist. Regardless of current trends, we suggest choosing a front door style that will complement the rest of your home's exterior and that you'll love for the long term!
Hardware and finishes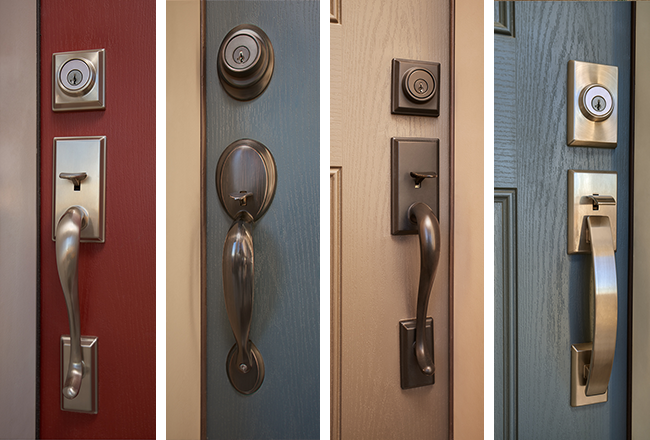 On top of the door itself, you'll also need to make decisions about what kind of hardware to choose. Front door hardware typically includes handles and locksets, both of which come in several varieties. Richmond American homes typically come with handle sets for the front doors, which consist of a handle, latch and deadbolt. The styles range from elegant and traditional to sleek and modern, and you have the chance to select your finish as well. Whether you go with polished chrome, matte black, bronze or nickel hardware, be sure to choose a finish that will add the perfect final touch to your front door!
Locks
Don't forget to choose the type of lock you'd like! While traditional deadbolts are the standard option for front doors, electronic locks are gradually becoming more commonplace. If you enjoy a high-tech look and prefer not having to carry around a physical key, you may want to consider the Halo Touchscreen Wi -Fi Enabled Smart Lock or the Smartcode 916 Contemporary Electronic Deadbolt, available in select regions. Both options can include traditional keyholes for extra peace of mind, and the Halo Touchscreen even comes with a mobile app that allows you to manage the lock from anywhere with an Internet connection.
Interior doors
It can be easy to get caught up in the excitement of designing your perfect front door, but choosing the style of your interior doors is also important! Do you want standard 6-panel doors throughout your home, or would you prefer something more modern, like a plank or single-panel door? What about the knobs and handles? Would you like your interior hardware finishes to match your front door's hardware? Consider your furniture, décor and color schemes when selecting your interior doors and hardware.
Still not sure what to choose?
This is where we come in! Every homebuyer who builds a Richmond American home from the ground up will receive a complimentary design consultation at one of our Home Gallery™ locations. Our talented experts will help you find the perfect design options for your home, and that includes doors and door hardware!
Learn more about our home design process.
If you're seeking even more design inspiration, check out these quick reads:
Please note that door and hardware upgrade selections may vary by region.