Special financing. You're familiar with the term, but its definition varies by industry. For example, some car dealers use "special financing" to describe financing options for people with bad credit who otherwise wouldn't qualify for an auto loan. And some retailers have deferred-interest special financing options, which allow shoppers to make interest payments on their purchases at a future date.
Luckily, mortgage special financing has none of those connotations and is often enjoyed by people with good credit. Here's what you need to know about "special financing" as it's sometimes used by our affiliate, HomeAmerican Mortgage Corporation (see licensing info):
Special financing generally takes the form of reduced fixed or adjustable interest rates for 30-year FHA, VA or Conventional loans. Other loan options may be available at different rates and terms.

Funding for these special rates may be limited and therefore may run out before an offer's end date. It's important to act fast if you want to take advantage of special financing, because it's typically available on a first-come, first-served basis.

Be sure to pay attention to offer requirements, such as closing dates.

Don't assume that special financing will always be available. Though there are many advantages to using our affiliated lender, the savings offered by special financing should not be considered a standard offering.
Special financing can help shave hundreds of dollars off monthly mortgage payments and save you thousands in interest over the life of your loan, making your new home more affordable.
See special financing in action…
Still wondering how special financing stacks up against recent market rates? Following is a payment example for a 30-year, fixed-rate FHA loan with and without special financing on a $420,000 home.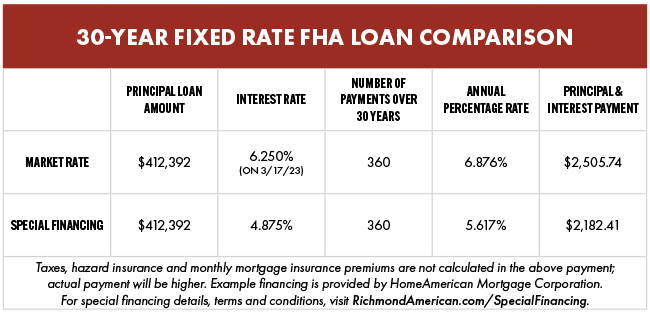 That's a difference of $325 per month or $3,900 per year!
If you're interested in learning more about special financing options and current offers, contact our affiliated lender, HomeAmerican Mortgage Corporation (HMC), at 866.400.7126 , NMLS #130676.

Ready to finance the home of your dreams?
Our free guide will give you an overview of the loan process, plus tools to keep you organized through closing.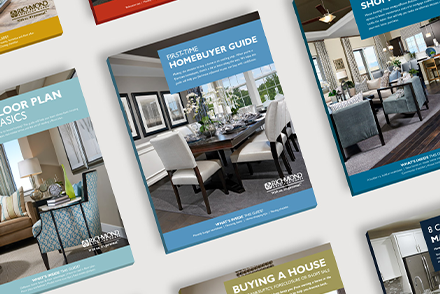 One more thing to consider…
There is also a non-financial benefit to financing a Richmond American home through HMC. Because we work together every day, using our affiliate can provide a more streamlined homebuying experience. This could potentially expedite your closing process, which can get you into your new home faster!