If you're the type of person who can keep a house neat and spotless 24/7, hats off to you! For the rest of us, living in a home that's on the market (and might be shown at a moment's notice) can be a challenge. Luckily, once you've taken all the major steps to declutter, clean and repair your home for sale, there are a few simple strategies you can use to keep it looking its best for buyers.
1) Make a list of your hotspots—the parts of your home that are hardest to keep clean and most noticeable. Some examples might be dishes in the kitchen sink, wet towels in the bathrooms, unmade beds, pet messes, kids' toys, or mail on the dinner table.
Each morning before you leave home, or any time you get a call to warn you of a showing, pull out your list and spend a few minutes tackling those problem areas. For super short-notice showings, be ready to bundle clutter into a laundry basket or storage tub and take it with you in your car.
At the end of the list, add these often-overlooked items if they apply to you: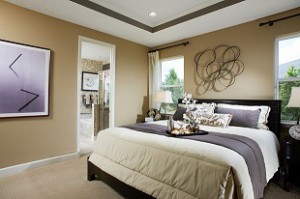 Take out the trash
Close toilet lids (parents: flush if needed!)
Open drapes/blinds to let in light
Turn on lights (if showing will happen soon)
Turn off TVs
Open interior doors to invite exploration
Make sure your key is in the lock box
Take pets with you (or kennel them)
Put away personal info, such as bills or statements
Set the thermostat to a comfortable temperature (especially if you've programmed it to save on heating or cooling when the home is unoccupied)
2) Build a quick-cleaning kit. Move from room to room faster with a portable kit of cleaning essentials, like: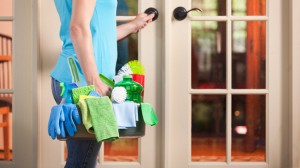 Rubber gloves
A duster or dust cloth
Stain-erasing pads
Disinfectant wipes
Wood and stainless-steel polishing wipes
Glass wipes
Spray mop
Dustpan and whisk broom
Lint brush (for pet hair on upholstery or drapes)
Why wipes? Besides the obvious advantage of a lighter, smaller cleaning kit, wipes could also help you minimize harsh chemical smells, since you're not spraying the cleaner into the air and you won't leave a fragrant pile of cleaning rags in the laundry. Alternatively, you could choose low-odor cleaners, or cleaners with a pleasing scent.
3) Ask for help (and make it easy for people to help you). If you're not the only person living in your home, you shouldn't be the only person trying to keep it clean. Goodness knows, you're not the only one creating the mess! Give your housemates, spouse and/or children helpful daily tasks and provide the tools they'll need to get their jobs done. For example, set aside a basket for each child to fill with their toys or other clutter, a tasteful box for unsorted mail, ample hampers for linens, etc.
Looking for more articles about selling your home? Check out the For Sellers section of our blog!