We're in the spirit of the season. And by that, we mean we're indulging in a lot of irresistibly yummy sweets, particularly all manner of shortbread cookies. This classic confection has too many variations to list, but you have to start somewhere, so we've whittled our favorites down to five mouthwatering holiday cookie recipes perfect for spreading good cheer and tidings of comfort and joy.
Potato-Chip Cookies from Fine Cooking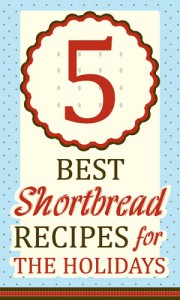 Classic shortbread cookies infused with crunchy goodness. OK, we have to say it… we bet you can't eat just one.
Espresso-Chocolate Shortbread Cookies from Smitten Kitchen
Pair these with a hot latte for dipping and transport yourself to coffee heaven.
Classic Shortbread Cookies from Joyofbaking.com
Butter, sugar, flour, vanilla extract—so simple, so delicious, so complete. Yet for all you mad confectionists, you'll find this the perfect foundation for crafting your wildest flavor experiments.
Lebanese Shortbread Cookies from Happier Than a Pig in Mud
Also known as Ghraybeh, this Middle-Eastern twist on an old classic uses browned butter, almonds and vanilla extract.
Chocolate Peppermint Bark Cookies from Bon Appétit
Dark chocolate, white chocolate, chopped peppermint candies… this decadent cookie's ingredients list says it all.
Find more holiday inspiration on Pinterest via our Winter Ideas for the Home and Holiday Cookie Recipes boards, and continue tuning into the blog for additional recipes and other homeowner resources.