There has been a lot of buzz about today's housing market, but current conditions can be beneficial to homebuyers for several reasons. Here are five things to keep in mind during your home search.
1. Homebuilding is cyclical
Everyone knows the housing market is in a down cycle, but what many people may not understand is this: Homebuilding is a cyclical business, not unlike the airline and automotive industries. The last housing downturn occurred in the late 1980s and early 1990s. What does that mean for you? It's a sound reminder to look beyond the short-term market fluctuations and think about your long-term goals. While today's housing market may not be optimal for investors seeking a quick turnaround profit, it could be beneficial for buyers seeking a place to live out their lives and build memories and futures.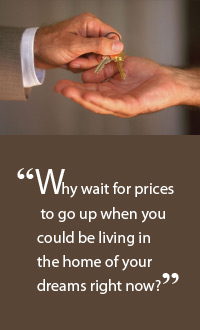 2. Great financing opportunities
In the last several months, we've seen some of the lowest interest rates in recent history. There's no telling how long rates can stay this low, but current conditions offer an outstanding opportunity for homebuyers to secure a low monthly payment. Contact a HomeAmerican Mortgage loan officer toll-free at 866.400.7126 for details.
3. Competitive pricing
In today's market, home prices are very competitive so you may be able to get more for your money, depending on your location, needs and budget. As the economy recovers, home prices may rise. So the question is, why wait for prices to go up when you could be living in the home of your dreams right now?
4. Local market conditions vary
Homebuyers today are flooded with national economic news that is not necessarily representative of their local market. Every area is different, so pay attention to factors such as your areas economic standing, schools, commute and amenities. These factors can have a substantial impact on home prices. To add value to your purchase, be sure to choose features that will make your home stand out in any market, such as a great homesite and desirable design options like granite countertops and hardwood flooring.
5. Tax advantages
Paying rent each month makes no financial investment. Your rent goes to your landlord and is gone forever. When you buy a home, you are investing money in something that has the potential to gain value. One way the Federal Government encourages home purchases is by offering tax benefits for homeownership.
If you elect to itemize deductions on your tax return, the interest and property taxes you pay each year may be deducted from your gross income. You may also be able to deduct points paid on a mortgage loan, subject to certain conditions. This can reduce your taxable income, in effect lowering the taxes you pay. Contact a local tax consultant for advice on which tax advantages you might qualify for.
Ready to make today's housing market work for you? Start your home search now »