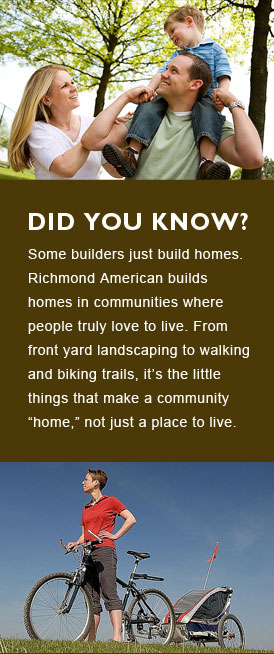 What advice would you give house hunters?
That's the question we put to our team, from Design Consultants and Construction Superintendents to Sales Associates and Loan Officers, nationwide. We wanted insights from the people who work with house hunters every day, and they didn't disappoint.
Our first local homebuyer tip is from one of our stellar Sales Associates, Carol Davies:
"When you take the time to explore and experience your potential community firsthand before you buy a home, you may find some things that surprise you. The lifestyle and amenities in the neighborhood could end up being a big factor in your decision making."
Spend a day at the community.
Here's our advice: First, research the area where you plan to buy, gauge your expected commute and read about the school district. After you've narrowed down your search to a few potential communities, commit to spending a day at each one. Pay attention to the little details you might not have considered during your first model home tour. Things like how much noise you hear from traffic, trains or planes. Are there comfortable places to walk or a field to play sports?
Bring a picnic meal and people-watch.
Find a great place to sit, have a relaxing picnic and get a feel for what life is like for residents. Talk to the homeowners as they are out in the evening, walking their pets. Find out how they like living in the community. Are they happy with the livability of the community they've chosen? Do their children have a place to play? Make sure the neighborhood you're eyeing complements your lifestyle.
Ready to dig a little deeper in your home search? Contact a local New Home Specialist today to get personalized insights into the Richmond American communities and neighborhoods you are considering: 888-500-7060. Or, search communities on our website!