Looking for fun ways to use your finished basement? The possibilities are limited only by your imagination, especially if you have a built-in wet bar or kitchenette! We've gathered just a few basement bar ideas for your new home.
Smoothie Station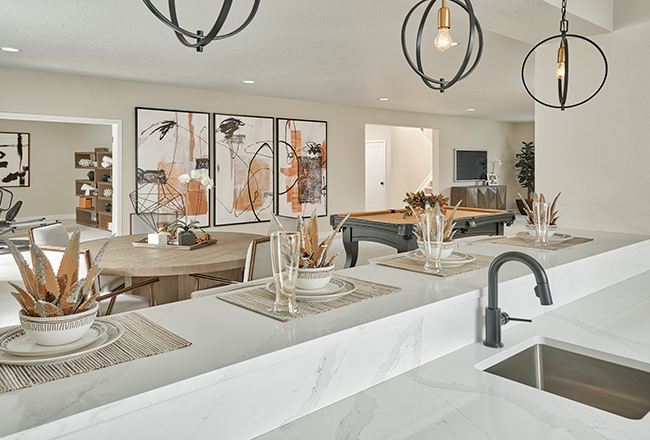 Your basement home gym needs a juice bar or smoothie bar for that post-workout cooldown! Stock your refrigerator and cabinets with refreshing ingredients, keep ice handy, plug in your blender or juicer, and treat yourself after working up a sweat. Need some recipe inspiration? Check out our Pinterest board.
Sommelier/Barista Central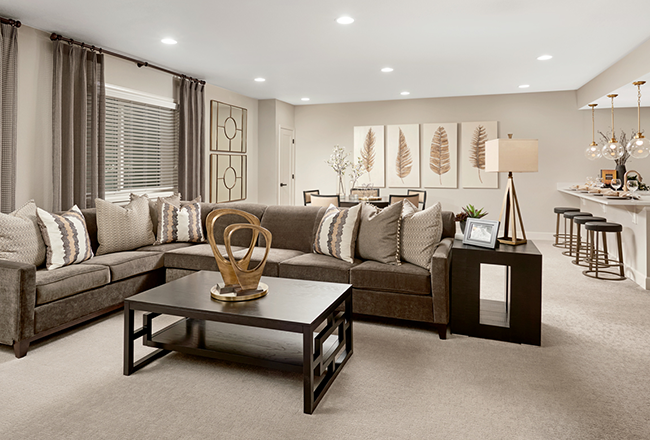 Impress your book group, coffee club, networking crew or sewing circle with a well-stocked coffee bar or wine bar right there in your basement lounging space. Offer a selection of hot beverages, like teas or coffee, and pastries; or opt for a wine that matches your theme for the evening and top it off with light snacks like cheese, crackers or crudités. All you'll need is a spot for an espresso machine, drip coffee pot and/or kettle and a wine fridge!
Movie Night Concession Stand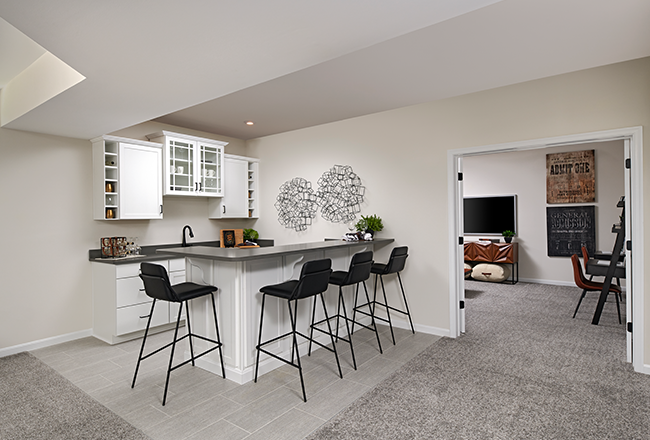 When it's time for family movie night, having popcorn, cold drinks and some tasty treats on hand can be like adding an extra topping to your favorite dessert. All you'll need is a microwave or popcorn popper and a fridge for the beverages. Classic snacks like chocolate covered raisins or caramels, licorice and more can be conveniently stashed in cabinets, ready for showtime!
Games HQ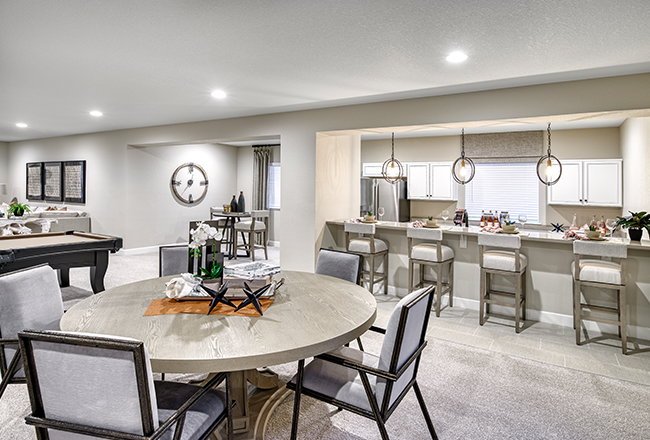 Whether you're hosting a poker night or taking on the family in a spirited contest of Parcheesi, having an area specifically devoted to playing games will make setup and cleanup much easier. If you want to get more ambitious, you can add a dart board or pool table by your basement bar to make it feel more like a neighborhood tavern. Or, you can go the kid-friendly route and devote the space to toys, games and other diversions, keeping other areas of your home free from extra clutter.
Lunch Counter & Water Cooler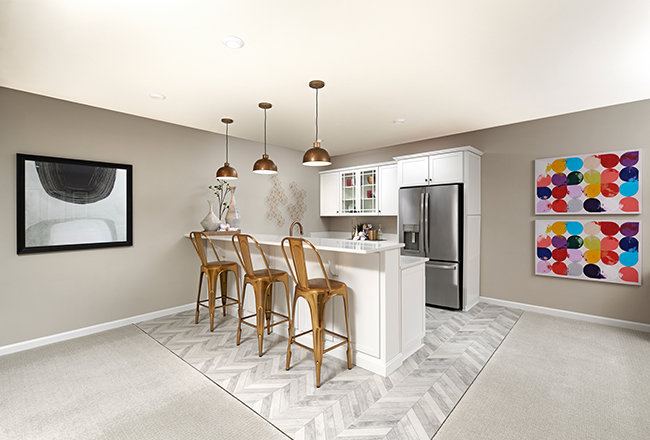 If your home office is located in your basement, it may help you maintain a better work/life balance if you have a lunch space that's separate from your everyday dining area. Even without coworkers on-site, taking breaks every couple of hours to recharge your mental batteries will make you more productive, and it's always important to stay hydrated and properly nourished over the course of a workday.
Guest kitchen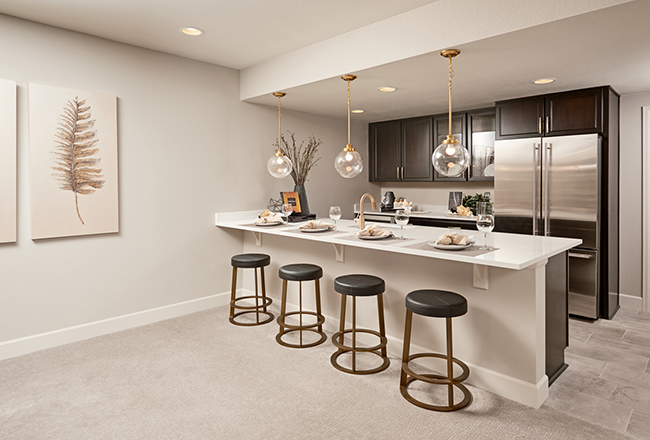 If you host a lot of overnight guests or have a multigenerational household, you might be able to use a basement bar as a secondary kitchen area if you have a basement bedroom and bath. Occupants will appreciate being able to store and prepare simple foods without heading upstairs and potentially disturbing other residents.
Designer finishes & fixtures!
Buying a new home with us? Depending on where you build (and whether you're building from the ground up or choosing a quick move-in home), you may be able to choose finished basement options. These may include additional bedrooms and baths, and rec room features like a basement bar or kitchenette. If you're starting a new build with us, your design consultant will walk you through your options at your Home Gallery™ appointment. Finishes you'll be able to select for your basement bar may include countertops, flooring, tile backsplash and more. Some plans also allow for optional pendant lights to be added to the ceiling while others offer stainless-steel appliances. These options vary from market to market, so be sure to reach out if you have any questions about your desired community!
Looking for a new home with a finished basement?
Researching neighborhoods and browsing floor plans can be time consuming. But we have a shortcut! Our local New Home Specialists will take your wish list and narrow down your options to save you time and energy.