What do you get when you combine 4,000 acres of beautiful Utah real estate, scenic Oquirrh Lake, miles of trails and parks, swimming pools, abundant shopping and entertainment, attractive schools and other master-planned amenities? That's the recipe for Daybreak, a live-work-play community in South Jordan, just southwest of Salt Lake City.
This fast-growing community has already earned national recognition, taking the National Association of Home Builders' Best in American Living Community of the Year Award in 2010 and helping South Jordan rank in the top 25 of Money magazine's Best Places to Live in 2012. What makes Daybreak, UT so popular?
Daybreak homes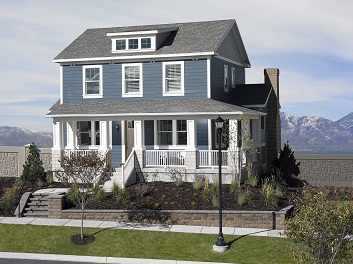 From apartments, townhomes and condominiums to single-family homes and age-restricted neighborhoods, Daybreak accommodates a wide range of lifestyles and a variety of architectural tastes. Depending on your builder, your Daybreak home may include energy wise features like low-e windows, right-sized HVAC equipment and sealed home envelopes.
Public transportation
Daybreak has its own light rail stations, making it easy for residents to travel within the community and to area attractions in South Jordan and beyond—even as far as Salt Lake City. Using the TRAX system, Daybreak commuters can enjoy faster travel times, save money at the pump and help decrease air pollution.
Daybreak culture and community
Live, work and play, all in one place! Daybreak's SoDa Row is the community's boutique-style retail hub. Restaurants, clothing stores, salons, bakeries and a gymnastics studio line the streets. The community comes together here to relax from a busy week or enjoy a night on the town—without driving through city traffic or paying for parking.
Find necessities like groceries or household items within 5-10 minutes of home, or enjoy world-class shopping at The District in South Jordan, Utah.
Community gardens
One of the most popular features among Daybreak residents is its system of six community gardens. Located in several spots around the community, Daybreak community gardens give residents a chance to meet neighbors, enjoy the abundance of Utah sunshine and grow their own food.
Recreational opportunities
Nestled at the foot of the towering Oquirrh Mountain range, Daybreak offers beautiful views. For the many active residents within Daybreak, the community offers access to 22 miles of trails, including 4 miles surrounding Lake Oquirrh, for running, biking and walking. Residents can also rent kayaks, canoes and rowboats for use on the lake, at no charge.  With nearly 20 parks in Daybreak, it's easy to believe there's a park within 5 minutes of home.
South Jordan jobs
The Daybreak master plan was designed to include over 14 million square feet of commercial building space, including shops, offices, restaurants and a pedestrian-friendly town center. In addition to any jobs these facilities may create, South Jordan is home to the Rio Tinto mining company, eBay and a variety of other employers just a short commute away.
Daybreak schools
Daybreak offers two public charter elementary and middle schools and one public school. Other middle and high schools are located just minutes away. Rio Tinto donated the land and resources for the elementary schools and supports programs for their employees to volunteer at the schools. 88% of elementary students in Daybreak walk to school on neighborhood walking trails, compared to 13% nationally. Perhaps not coincidentally, Daybreak's South Jordan school district ranks 12th in Utah on Trulia's list of Most Attractive School Districts.
Daybreak is sold out, but check out Riverton and Herriman, two beautiful communities nearby!