What advice would you give house hunters?
That's the question that we put to one of our top team members in the field. We wanted insight from someone who has abundant experience in Home Care from working with our homeowners every day. So, we asked Anna Walton, one of our stellar Home Care Directors, for her expert advice:
"Don't overlook the value of a new home warranty. The warranties new homes offer can exceed what you would receive in a resale home, in terms of what's covered and how claims are handled. We have teams dedicated to warranty concerns and they're only a phone call away. These are things that you may not receive with a resale home. We have closed over 220,000 homes over our 45+ years, so it gives a consumer peace of mind that we will be here for the long run to stand behind our product."
Consider the benefits of buying a new home.
One of the biggest benefits of investing in a new home is that not only are you receiving brand new home features, fixtures, finishes and more, but you also receive manufacturer warranties on some fixtures, appliances and other items that a resale home would not likely include, as well as potentially lower insurance premiums. Access to your homebuilder's local warranty team is an advantage that can provide greater peace of mind.
Ensure your homebuilder is credible.
Choosing a builder to create your dream home is no small decision. A new home could be one of the biggest investments of your life, and it is important to be able to trust that the homebuilder has a history of satisfying their customers and backing their product. Be sure to do your research and ask plenty of questions about home features, warranty items and anything else that will help you feel secure and excited about your homebuying decision.
Ready to dig a little deeper in your home search?
Contact a local New Home Specialist today to get personalized insights into the Richmond American communities and neighborhoods you are considering: 888.799.8322. Search communities on our website!
Need house-hunting help?
We have a guide for that!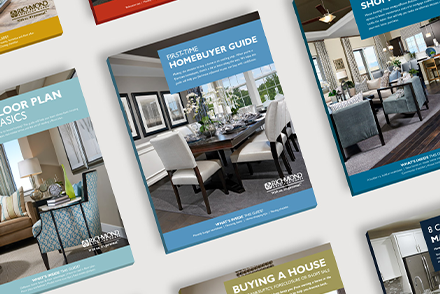 You may also enjoy:
How Long Does It Take to Build a House?
How to Buy a Home Off a Floor Plan