If you've shopped for a new home, then you've likely toured professionally decorated model homes. Touring a model home decorated by a builder is one of the best ways to get a feel for how a home's floor plan will function in real life. But do you know what goes on behind the scenes? We stopped by our Seasons™ Collection model homes in Windsor, Colorado on install day. Our merchandising team was hard at work, but they let us get an inside look at their process.
Boxes, boxes, boxes!
There was a full-size moving truck out front when we arrived and the designers were busy unpacking boxes, just as though an actual family were moving in! Furniture movers were also on hand, taking direction on where to place sofas, dressers and more.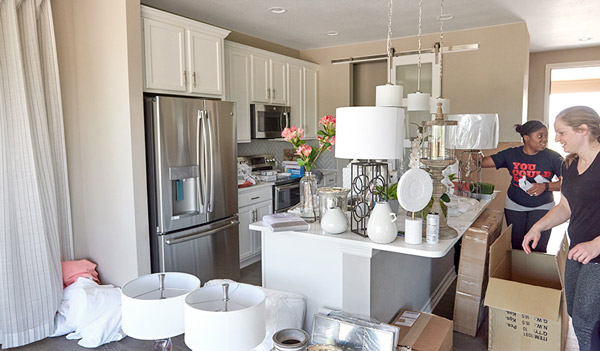 Protecting the floors
With so many boxes and furniture coming in and out the door, we make sure to protect the brand new floors! After all, this model home will eventually go up for sale and we want to make sure it's in the best possible shape for the future homeowners.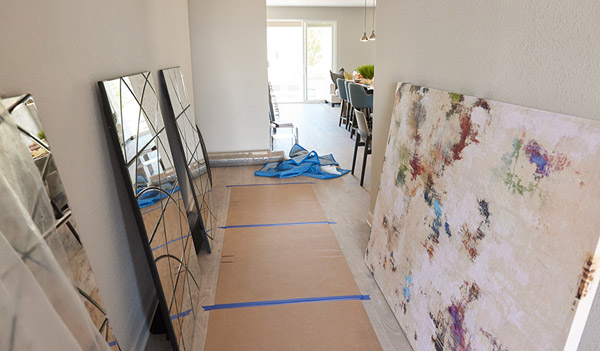 Planning the furniture layout
A lot goes into planning a model home's furniture and accessories. The designers have a road map so they know how to arrange furniture and art pieces within the home. Seeing the model can give potential homebuyers a better idea of how they might use the space. While you certainly don't need to mimic the furniture layout in the home you purchase, we hope the designs provide inspiration!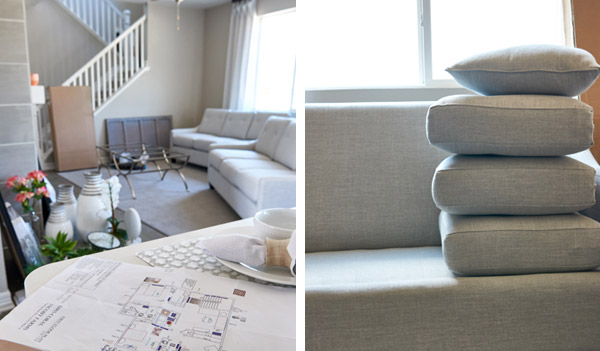 Time to accessorize
Look at these stacks of accessories! The color schemes for our model homes have been carefully chosen to give each living space a cohesive, pulled-together look. It's not unlike what the design consultants at our local Home Galleries do when it's time for the buyer to select countertops, flooring and more. We want you to have a professionally coordinated home you'll love for years to come.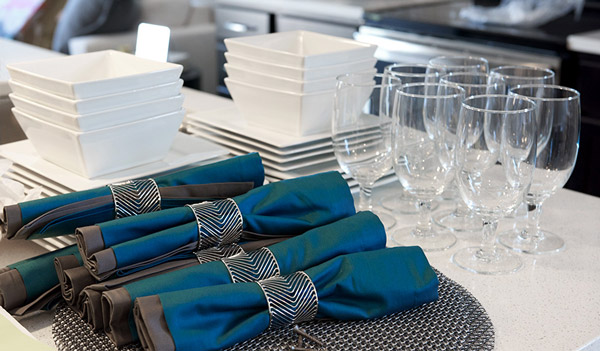 Final touches
No matter how much planning goes into a model home design, there are still details to tweak and decisions to be made along the way. Below, a designer perfects the placement of several key accessories in the dining area of the Onyx home.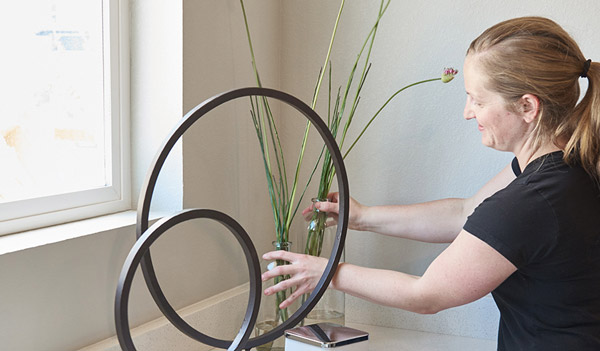 The finished model home, ready to tour
There's nothing like walking into a completed model home. The new-home smell certainly rivals the new-car smell! If you would like to tour a model of the Onyx plan (like the one featured above) or any of our other model homes, contact our Homebuyer Resource Center at 888.500.7060. A New Home Specialist will be able to tell you what's available in your area, and may even be able to introduce you to similar plans that fit your needs.
The Seasons™ Collection is designed to put homeownership within reach for a wider range of buyers, and is currently offered in select markets across the country. The floor plans maximize space and still allow you to personalize the home designs with your choice of fixtures and finishes.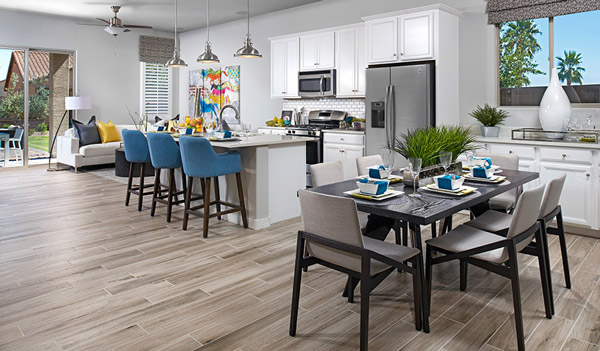 Photo from the Onyx model home, Seasons™ Collection, Arizona

Other great model home resources
Want model home touring tips?
We tell you what to bring! Read the article.
Need more advice on coordinating your home's color scheme?
See what our designers suggest. Read about color schemes.