Short on time, but big on sentiment? Well, you'll be pleased to learn that preparing confections for the object of your affection doesn't have to take a lot of time or effort. Here are five easy Valentine's Day treats that your special someone will absolutely LOVE. You won't have to bake your heart out, but they'll swear that you did!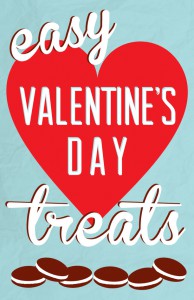 Conversation Heart Cheesecakes from Hungry Happenings
Tell your sweetheart exactly how you feel this Valentine's Day with this smooth, creamy spin on iconic conversation hearts. This romantic recipe combines graham crackers, sugar, cream cheese and just a pinch of cinnamon to create melt-in-your-mouth miniature cheesecakes that are guaranteed to get your Valentine's message across, loud and clear.
Red Velvet Sandwich Cookies by Bakerella
Valentine's Day and red velvet go together like Cupid and his cherished crossbow. And these crimson cookies are as effortless as they are elegant (not to mention, delicious)! Simply combine a box of red velvet cake mix with butter and eggs (and don't forget the simple cream cheese filling!) for a tantalizing treat that will win the heart of that special someone. Love is in the air—and in the oven—this Valentine's Day!
2 Ingredient Strawberry Fudge from Cookies & Cups
Your Valentine will swear that you spent hours preparing this delicious strawberry fudge which, in fact, contains just a few ingredients. Grab a container of frosting, a bag of white chocolate chips and some heart-shaped sprinkles, follow a few simple steps and voilà—you'll have a sweet Valentine's treat that's très romantique!
Lemony Love Potion from Food.com
Toast to your long-lasting love with this simple, satisfying Valentine's Day elixir. Raspberry sherbet mingles with pink lemonade concentrate and lemon-lime soda to create a drink so pink and delicious, you'll swear Cupid had a hand in its creation!
Blue Cheese Stuffed Strawberries from Taste of Home
Looking for a Valentine's Day treat that's not so sweet? This simple recipe merges tangy balsamic vinegar, cream cheese, crumbled blue cheese and juicy strawberries for a snack your loved one will savor. Your Valentine is sure to be impressed with your outside-the (chocolate)-box thinking!
Have an unforgettable Valentine's Day, and keep following our blog for more delicious recipes and homeowner resources.