When you're buying a home, one of the things you'll be expected to have at the closing table is title insurance.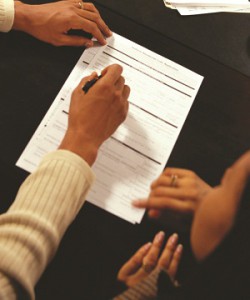 Q: What is title insurance?
A: Title insurance protects against unexpected problems associated with the title to your new home, such as liens for unpaid taxes or unpaid work on the property, mistakes or omissions on the deed, undisclosed heirs, fraud and errors on examining records. Title insurance policies are available to both owners and lenders.
While other kinds of insurance, such as auto, life or health, cover you against future losses, an Owner's Policy insures against risks caused by title faults that occurred before you owned the property. Once you pay the one-time premium, your policy remains in effect until the property is sold to a new buyer, even if that doesn't occur for decades.
Q: Wouldn't a title search reveal title problems? 
A: No matter how experienced and thorough your title examiner may be, a title search cannot absolutely assure that no title faults are present. Title searches are based on a careful examination of public records, which may not—and in some cases, cannot—disclose certain types of information that may later affect your title.
Other than you and your lender, no one else should have claims against your home. Contact Richmond American's affiliate, American Home Title and Escrow Company at 855-248-4853 to learn more about the protection that title insurance can provide.
Need more info about the homebuying process? Get our free First-time Homebuyer Guide!