Our design team recently wrapped up their annual trip to IBS and KBIS, side-by-side showcases of some of the most innovative new products from the construction and kitchen-and-bath industries. This year, the combined events experienced an unexpected blast of snow in Las Vegas, but that didn't stop hundreds of brands from turning out with their A-game. Check out a sample of what caught our eye as potential additions to our Home Gallery™ offerings (ask your design consultant for what selections are currently available in your area). You might find the inspiration you've been seeking for your home design!
GE® Kitchen Hub™
Each year, new products enter the market that further shape our understanding of just what exactly a "smart" home is—Nest™ thermostats, Ring™ doorbells, Amazon Echo® and Alexa®, to name a few. In the constant race for the next hit smart home product, enter the  GE® Kitchen Hub™, a 27-inch touch screen and ventilation system—conveniently mounted right over your cooktop—that comes equipped with over 5,000 guided recipes. In addition, it features home management capabilities, entertainment apps and two cameras for video chatting (one aimed downward if you'd like to share what you've got cooking).
Colorful geometric tiling
Tile brands continue to expand on the geometric patterns trend in bold and colorful new ways. Take, for example, the Revalia™ and Bee Hive™ collections by Daltile®, or the Myth™ and Rhapsody™ collections by Emser® Tile—all displayed in kaleidoscopic variety at KBIS and IBS.
Voice-command faucet
What if you could tell your faucet exactly how much you want it to pour? Might be pretty handy for things like cooking dinner or making coffee. That's one of the features Delta® Faucet showcased with its VoiceIQ™ Technology, pairing the kitchen faucet with smart speakers like Alexa® and Google Home®. Other voice features include a "warm-up" command, heating water to 95 degrees.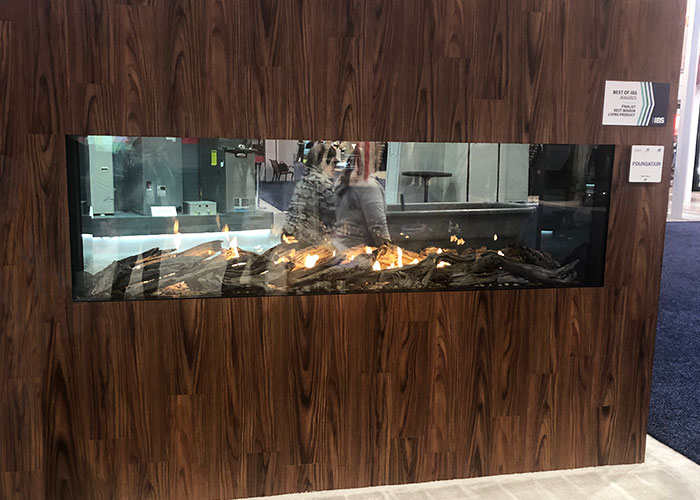 Linear Heat & Glo fireplace
This Foundation Series linear see-through fireplace display by Heat & Glo® received top honors for Best Indoor Living Product at IBS. As practical as it is stunning, the fireplace boasts mirrored glass to heighten the perception of flames, double-pane glass that remains cool on the outside, and chromotherapy LED lighting with a selection of different colors.
Interested in more home design trends and decorating ideas? Check here!