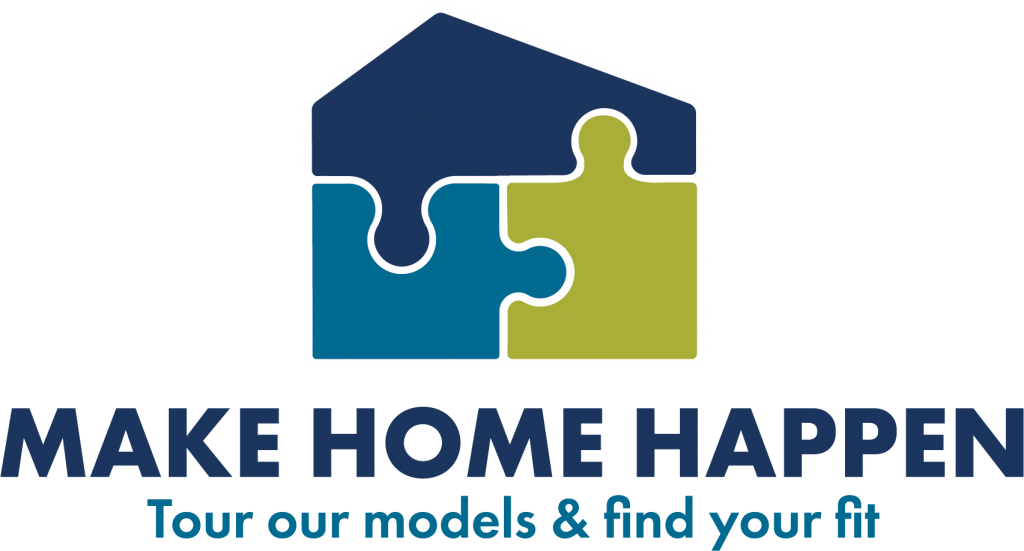 Exploring model homes (in person or virtually) can lead to one of the most rewarding experiences of your life—homeownership. Floor plans, finishes, fixtures and future furniture arrangement…these are the elements that get you excited about the possibilities. It's fun (and perfectly normal!) to get caught up in the fantasy of buying a new home. But it's important not to lose sight of some of the more practical aspects of house hunting, including being prepared for your model home tour.
There are many ways to begin your home search online, including virtual tours, interactive floor plans and brochures. Once you've narrowed your options down to the model homes you'd like to see in person, we recommend incorporating the suggestions below to make the most out of your model home tour excursions.
To help ensure your model home tour goes off without a hitch, consider bringing along the following: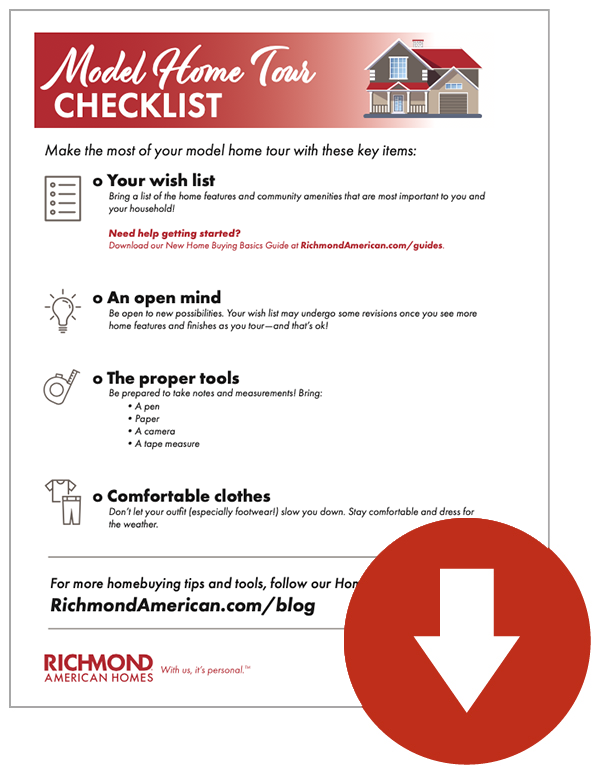 Your wish list – It's good to have an idea of what you're looking for in a new home and community before you even set foot in the sales office. Do your research ahead of time and bring along a list of the home features and community amenities that are most important to you. Not sure where to start? Get our free New Home Buying Basics guide to learn more about making your wish list. In addition to the basics like lot size, square footage and the number of bedrooms, bathrooms and garages, you will likely want to ask the sales associate about the types and quality of available finishes and whether or not the community has HOA fees. Even though you may be absolutely certain of what you're looking for in your new home, you should also bring along…
An open mind – It's impossible to predict which features or finishes will grab your attention while touring a model home. You may start your tour with a particular model or layout in mind only to discover that you don't want to walk up and down stairs every day or you can't possibly live without a sitting room off the owner's bedroom. Be open to new possibilities—you may wind up with a home that's more comfortable, convenient and stylish than you ever imagined!
The proper tools – We highly recommend that you pack a pen, paper, camera and tape measure for your model home tour. Depending on your tech level, the first three items can easily be replaced with a cell phone or tablet. The point is, these tools can help you record your thoughts, feelings and questions so you don't overlook a single detail in your new home search. Even if your memory rivals that of an elephant, it can be difficult to match up rooms, features and decorative touches with specific homes after an exciting day of touring model homes.
Comfy clothes – When it comes to scouting out model homes, comfortable clothes (especially footwear!) are a must. Clothing may have seemingly little to do with house hunting, but being comfortable can make all the difference when searching for your dream home. After all, you never know where your model home tour might take you, and you'll be less alert if your feet are sore!
Best of luck on your model home tour! Be sure to call the community beforehand to check if an appointment is needed. For more help in your new home search, check out our comprehensive guides: How to Choose the Right Floor Plan for Your Lifestyle and Ultimate Moving Pack.