Explore Baltimore's excellent culture, dining and city attractions
Baltimore is a unique part of the northeast. Residents enjoy museums, live music, farmers markets and festivals. Baltimore.org claims it's impossible to be bored in Baltimore: "Between our hundreds of unique neighborhoods, sports teams, arts destinations, and a city center always awake with action." Baltimore residents also enjoy a big perk of living in the northeast—access to a number of other major cities such as DC, New York and Philadelphia. If you're considering moving to the Baltimore area, here are some highlights to consider:
City attractions
Light City Baltimore
Scheduled in the spring annually, this special event offers stellar performers that incorporate light and music into their shows. There's even a children's entertainment area that brings the experience to life for the little ones.
Old Ellicott City
A great day trip, this picturesque historic town near Baltimore comes to life with unique dining venues, studios and galleries to tour and a number of local music festivals.
Baltimore Book Festival
The Baltimore Book Festival is a three-day event bringing together both local and nationally known authors. Visitors enjoy readings, book signings, cooking demonstrations, workshops, panels, live music and more.
Museums
American Visionary Art Museum
This unique museum is definitely worth seeing. The exhibits include everything from the History, Fantasy and Future of Food to The World's First Family of Robots.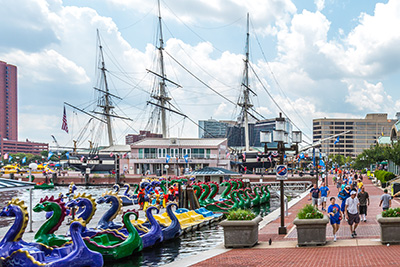 Historic Ships in Baltimore
According to the website, this collection of ships features "hands-on encounters with history." Four military vessels and a lighthouse are located within walking distance of each other. There is also a full event calendar and group tours for those seeking a structured way to enjoy the experience.
Babe Ruth Birthplace and Museum
Baseball fans won't want to miss this museum with a number of exhibits about baseball as well as Babe Ruth's life as a husband, father and friend. The space can also be rented for special events.
Dining
Charleston
This stellar restaurant changes their menu regularly with dishes such as grilled calamari salad and pomegranate-marinated grilled lamb chops.
La Scala
Named Baltimore's Best Italian Restaurant four years running, this mainstay is the perfect destination for special occasions. The bruschetta, caprese salad, garlic bread, penne con spinace and balsamico steak will have your taste buds singing.
Chaps Pit Beef
Chaps Pit Beef is the perfect option for a more casual dining environment. Featured on the Food Network, you won't want to miss the signature famous Pit Beef sandwich, The Bull Dog or The Gus.
Moving to the Baltimore area
A popular relocation destination, the cities and suburbs surrounding Baltimore have something for every homebuyer. New construction homes available in these areas allow residents to enjoy the ease of convenience of a brand new home with quick access to city amenities. As a relocator, you may want to consider the following Baltimore-area cities:
Catonsville/Carroll
This suburban area is in a great location near Patapsco State Park, Howard County and downtown Baltimore. Catonsville is well-suited for commuters with easy access to major highways 70, 29, 695 and 95. Main Street in historic old Ellicott City is only 5 minutes away and the inner harbor is only 20 minutes down the road.
Residents enjoy multi-cultural restaurants, community parks, farmers markets and boutique shopping. Catonsville and Carroll are close to the urban lifestyle of Baltimore but are located in the suburbs, providing the best of both worlds. Catonsville is also home to a number of popular private schools: Mount de Sales Academy, St. Agnes School (directly across from Bristol Green), St. Mark School and Al-Rahmah School.
Homeowners here enjoy:
Escape This Live
Patapsco State Tire Park
Benjamin Banneker Historical Park & Museum
B&O Railroad Museum
Catonsville Farmers Market
Elkridge
Elkridge is a suburb of Baltimore located in Howard County directly off of I-95 and Route 100. Elkridge is only 20 minutes from downtown Baltimore. Natural attractions in the area include Patapsco State Park, which runs along the Patapsco River in North Elkridge, and Rockburn Branch Park.
Howard County residents enjoy a high quality of life and notable public school system. Historical sites in the area include the Belmont Estate and Elkridge Furnace Complex. And don't miss the farmers markets, bringing residents the best in locally grown produce.
Baltimore
Baltimore is an urban area made of distinct neighborhoods with excellent shops and fine dining. Known for its railroads and waterways, Baltimore was nicknamed The Charm City in the 70s when developers sought to revive the downtown area, which is now booming.
Upon moving to the Baltimore area, residents often spend free time at farmers markets, art crawls, HON Fest and wine festivals. Those who frequent the city know that delicious seafood is always on the menu. With beaches two hours away and mountains only an hour away, recreational opportunities are always at your fingertips.
Popular attractions in Baltimore you won't want to miss:
Inner Harbor
Baltimore Zoo
HippoDrome
Pier 6
Water taxis
National Aquarium
Science Center
Edgar Allen Poe's home
Maryland Zoo
Millersville
Homeowners in suburban Millersville enjoy Kinder Farm Park and Sandy Point State Park. The city is located between Baltimore (30 minute drive) and Annapolis (15 minute drive). The B&A Trail (Baltimore & Annapolis Trail) is a 13.3-mile trail through Anne Arundel County. The trail winds through parks, neighborhoods and natural wooded areas with scenic views of trees, streams and many historical points.
Popular ways to spend free time in the area include Annapolis-waterfront restaurants and antique/boutique shopping in downtown, Arundel Mills Mall, Baltimore waterfront, Eastern shore and Washington D.C.
Millersville residents enjoy many nearby outdoor activities including water sports, parks and trail walking. Millersville is only minutes from BWI Airport.
Glen Burnie
The Glen Burnie community is a natural attraction with water activities, a marina, walking trails and a dog park. Patapsco State Park and Gunpowder State Park are nearby as well. Kinder Farm Park is close by with a petting zoo, ball fields and running trails. Glen Burnie is a waterfront community surrounded by forest conservation in Anne Arundel County.
Glen Burnie homeowners appreciate their proximity to every convenience. Baltimore and Annapolis are easily accessible for night life and historical scenery. It is also an easy drive to something more peaceful and serene and there is? easy access to boating and water sports. Glen Burnie is only minutes from BWI Airport.
Thinking of moving to the Baltimore area?
Search new homes in the region, starting from the $400s at RichmondAmerican.com. Our local New Home Specialists are well-versed in the area and can help point you in the right direction during your new home search. Call us today 410.312.2828.