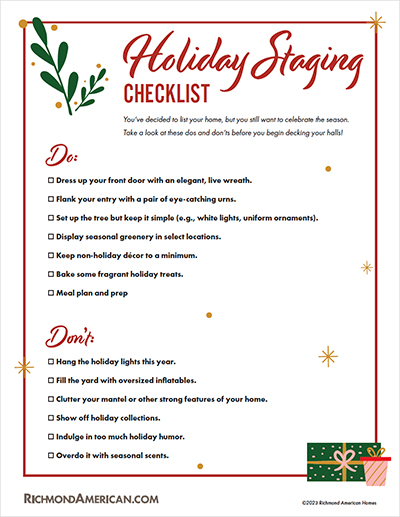 You've decided to list your home, but you still want to celebrate the season. Don't let your impressive nutcracker collection stand between you and a speedy sale!
The key to staging a home—regardless of the time of year—is to create an inviting, clutter-free environment that will generate interest from prospective buyers and agents (bidding war, anyone?!). Although it's fine to add a little holiday flair to your living spaces, keeping seasonal decorations classy and contained can help you score the sale.
Not sure how much seasonal décor is too much? Having a tough time determining which decorations might deter house hunters? Not to worry! We've created this handy home staging checklist to help you find the proper balance of festive and fashionable.
Do:
Dress up your front door with an elegant, live wreath.
Add additional impact with a tasteful bow.

Flank your entry with a pair of eye-catching urns.
Fill them with hearty winter plants, such as potted blue spruce.

Set up the tree but keep it simple.
Adorn it with neutral white lights and uniform ornaments (i.e., stick to a single shape and shade) rather than the kids' colorful homemade ones.

Display seasonal greenery in select locations.
A perfectly positioned poinsettia in the kitchen and/or a holiday arrangement in the dining room can add visual interest without overwhelming prospective buyers.

Keep remaining décor to a minimum.
To help prevent clutter, remove one non-seasonal item for each holiday decoration you decide to display.

Bake some holiday treats.
Buyers will be drawn to the smell of seasonal baked goods, which can also help mask any unpleasant odors.
Don't:
Hang the holiday lights this year.
They may be distracting and call attention to a chore some house hunters would rather overlook.

Fill the yard with oversized inflatables.
Give Rudolph and all of the other reindeer a much-deserved rest until you've settled into a new home next holiday season.

Hang the stockings with care.
Keep all mantels clean and free of clutter so house hunters can visualize adding their own personal touches.

Show off holiday collections.
Homebuyers should be able to recall the floor-to-ceiling fireplace and fabulous finishes instead of Santa's Village or your large assortment of angels.

Overdo it with seasonal scents.
Although fragrances such as cinnamon, clove and pine are reminiscent of the holidays, using seasonal air fresheners can backfire if prospects have allergies or sensitivities.

Indulge your funny bone.
Some people take holidays very seriously, so they may not appreciate decorations that poke fun at the season or highlight its downsides.
Want to show your home to its best advantage?
Our free Real Estate Photography Guide is filled with photo tips to help you market your home like the pros!