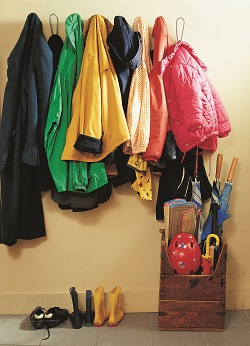 As the summer begins to fade, it's time to start looking forward to heading back to school. While the start of the school year is an exciting time characterized by new classes and school supplies, it can also mean organizational chaos. Backpacks get dumped on the kitchen counter, sports bags block the door to the garage and band equipment litters the living room. What's more, you're suddenly transitioned from lazy summer days to a hectic schedule filled with homework, soccer games and other after-school events. Check out these organization tips for ideas on how keep your home clutter free and your stress level at a minimum during the school year:
Eliminate the paper chase.
Kids tend to bring home a number of loose papers from school, which promptly get fanned out all over the kitchen table or crumpled in the bottom of a backpack. Save yourself the panic of looking for that permission slip the morning of the event by investing in an organization system and sticking to it. Be it cubbies, drawers or trays, you can assign homework papers to one unit, important school paperwork to another and birthday party invitations and other miscellaneous items to a third. Label or color-code your organizers so your children are aware of where papers should go. For simple, stylish examples, visit our back to school Pinterest board.
Utilize your mudroom.
Though the name may suggest otherwise, your mudroom can be used for much more than a dumping ground for dirty shoes. Built-in or installed lockers, like those shown here, are a great school organization solution. Confine all backpacks, sports bags and equipment here, giving each child or each activity its own locker. Make your expectations clear – all bags should be tucked away in the mudroom, not discarded by the front door!
Make a school calendar.
The fourth-grade play is which night again? Back to school means more commitments, and it can be hard to keep them all straight. By creating a large, visible school calendar you'll be able to map out your schedule and plan ahead. Include due dates for projects and test days, and encourage your kids to take an active role in getting their own events on the calendar.
Keep following our blog for more organization tips, and check out our Pinterest board for further inspiration!