If you're buying your first home, you've probably already heard that an FHA loan is THE loan for you. While it's true that FHA-insured mortgages are an attractive option for many new buyers, it's not the only option—and FHA loans are not just for first-time homebuyers! Check out our FHA FAQ below, then be sure to check out our articles about the other mortgage options on the market.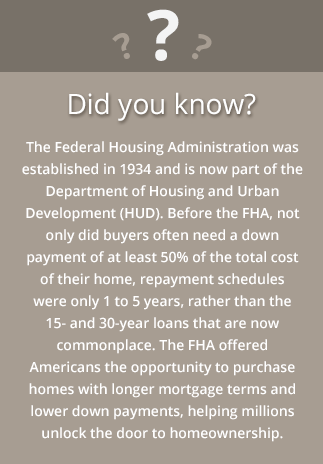 How do I get a home loan from the Federal Housing Administration (FHA)?
You don't! The FHA doesn't actually loan money to homebuyers. Instead, it insures private lenders, such as HomeAmerican Mortgage Corporation, against loss if the buyer defaults on the mortgage. An FHA-approved lender still has the final decision of whether or not to loan the buyer money, but having the FHA insurance can help them in making their loan decision.
Who can get an FHA loan?
First-time buyers, repeat buyers, homeowners looking to refinance—anyone who can meet the minimum program requirements is eligible for an FHA loan. Generally, that means you must be able to prove:
Your total monthly mortgage payment will be less than 31% of your monthly income. You should note that your monthly mortgage payment will include your Principal, Interest, Taxes and Insurance (or PITI), plus monthly mortgage insurance.
You have a satisfactory credit history showing your commitment to maintaining and paying off debts in a timely manner. FHA credit guidelines are generally less strict than traditional mortgages, making FHA loans desirable for many homebuyers.
You're a legal resident of the United States.
Your lender may have additional requirements that apply to you, your down payment and the property you're buying.  The maximum loan amount must meet FHA requirements.
What makes FHA loans attractive?
Low down payment: Borrowers may only need a 3.5% down payment, rather than the 10% or even 20% you may have heard you need. This money may be a gift from a family member or other source.
Closing costs may be lower: The program allows for up to 6% in seller contributions to help cover customary closing costs.
Flexible qualification: FHA guidelines have more flexible requirements than conventional programs. More flexibility means more borrowers may obtain financing.
Less than perfect credit: FHA loans are often more forgiving of a buyer's credit history. Approval is based on a variety of factors, including credit history, credit scores, employment history and income. You may still be able to qualify if you've had a bankruptcy as recently as two years ago.
Term options: FHA loans are typically fixed rate, but adjustable-rate loans are also available.
What's the down side?
You should expect to pay both upfront and monthly mortgage insurance premiums to mitigate the risk to both the FHA and your lender.
How can I learn more?
Contact our affiliate, HomeAmerican Mortgage Corporation (HMC) to learn about current programs and find out how to qualify. Call a loan officer toll-free at 866-400-7126 today!