Maintain your New Year's resolution to "get more organized" by choosing a new home that is designed to help you succeed. Richmond American's homes offer an array of exciting design options that can help reduce the amount of time you spend on various tasks while making it easier and more convenient to get them done. Let's take a look at some of these features that can be used to promote organized living:
A Dedicated Workspace
Given that working in a hybrid or remote environment has become commonplace in recent years, having a quiet study or tech center in your home is now more important than ever. By cutting down on the distractions you might face while attempting to work in the living room or kitchen, you can optimize your productivity and be better able to enjoy your designated downtime. In addition to enhancing your work-from-home time, a set workspace can also provide better storage options for your computer, printed files and other work-related items.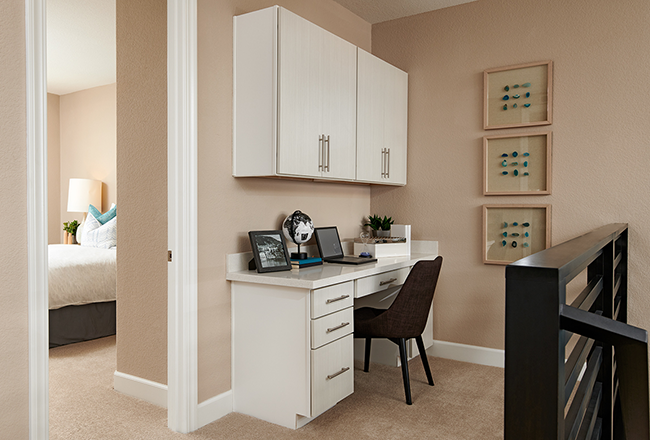 A Well-appointed Kitchen
In the kitchen, additional storage space in the form of a walk-in or butler's pantry can be helpful because it can cut down on the number of trips you make to the grocery store every week. A center island can make meal prep quicker as you can lay everything out in one area, and a double oven can also help optimize your time by allowing you to you cook multiple dishes at once.
Features such as Richmond American's premiere cabinet package allow for further organization in the heart of the home. This package includes 42″ upper cabinets and full-depth over-the-refrigerator cabinets, both of which offer more space for storage. In addition, roll-out shelves allow greater accessibility to pots, pans and other kitchen essentials so you won't spend valuable time and energy hunting down the tools you need to make your next meal.
A User-friendly Laundry Room
Not very many people enjoy doing laundry, but by adding a deluxe laundry room to your new home, you'll be able to tackle this often-dreaded chore with greater aplomb. Optional features, such as a sink and cabinets, can help you stay better organized and on task, which can add minutes back to your day. Imagine separating your lights from your darks in a space that's free of clutter and distraction so you can concentrate on the task at hand! Get additional tips for organizing your laundry room.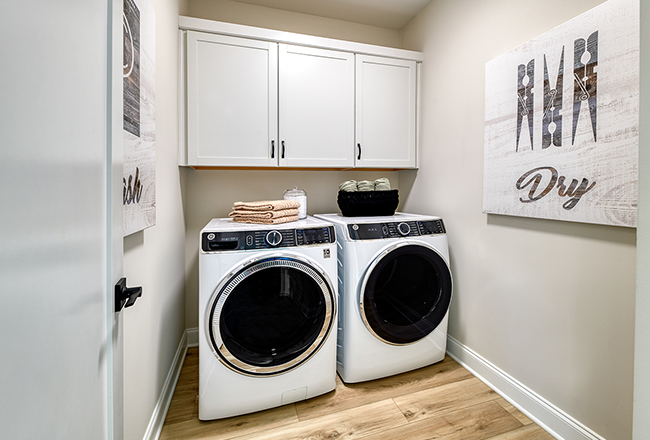 Dynamic Closet Space
Once your clothes are clean, hanging them up in a spacious walk-in closet sounds nice, doesn't it? A larger closet can help you have a better idea of the clothes and accessories you own—and the items you need to buy. This will allow you to plan out your weekly wardrobe in advance, saving you time and keeping you better organized.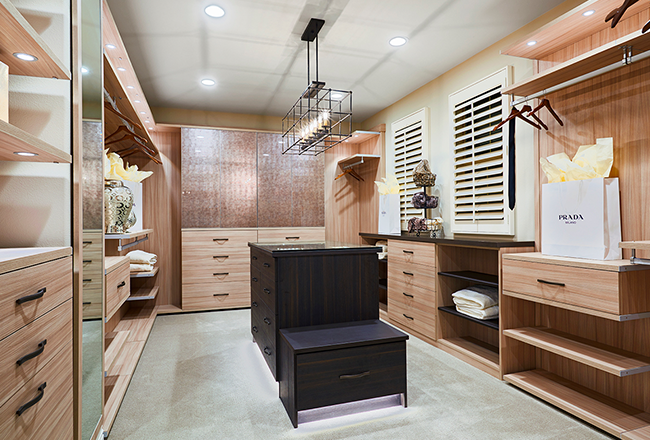 Generous Garage Space
You can take storage space to the next level with the UltraGarage®—an attached, extra-tall garage designed to house a range of vehicles for all your storage needs (think: RVs, boats, snowmobiles, jet skis and more!). If you're currently renting a storage unit, having an RV-sized garage can help you save time by not having to drive all the way there and back when you need to retrieve something. You'll also save money on the rent these units cost and be able to have a better inventory of your possessions.
A Convenient Mudroom
How much time have you wasted searching for your keys? Convenient mudrooms featuring handy key drops are a great way to ensure you never spend another minute looking for keys or other small items you take with you when you leave the house.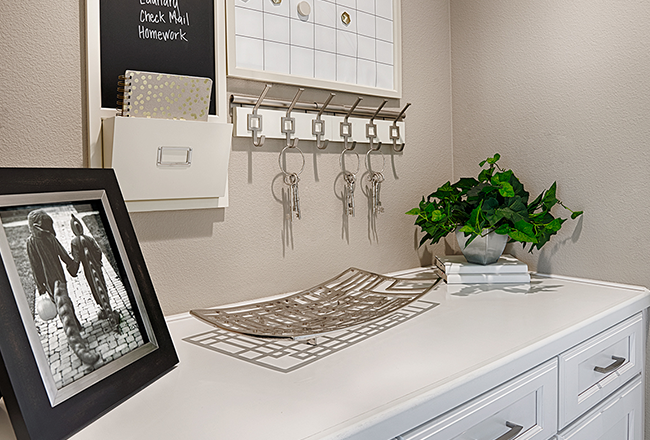 To learn which of these exciting features are available in your region, call 888.500.7060 to speak with a New Home Specialist!
Navigate your way through new home construction.
New to house hunting? This guide will help you learn about basic housing types, real estate terms and how to read a floor plan.