Saving up for a down payment on a new home in Maricopa County? This homebuyer assistance program, now available through HomeAmerican Mortgage Corporation, may give you the boost you need to move up your moving day!
What's Home in Five?
It's a grant from the Phoenix and Maricopa industrial development authorities (IDA) that may be used toward a down payment and/or closing costs on a qualified home purchase. Typical program participants receive 2.5 to 3.5% of the total mortgage amount; members of the military, first responders and teachers may be eligible for a grant of up to 4.5%.
When do I have to pay the grant back?
Never.
Who can qualify?
Buyers with a combined income of no more than $88,340, a minimum credit score of 640 and a debt-to-income ratio of 45% or less. Applicants must also complete the program's online homebuyer education course.
Does my loan type matter?
Home in Five grants can be used for FHA and VA mortgages.
What kinds of homes may be eligible?
Owner-occupied homes in Maricopa County with a maximum price of $300,000.
Call a loan officer at
HomeAmerican Mortgage Corporation at 866.400.7126 for more information!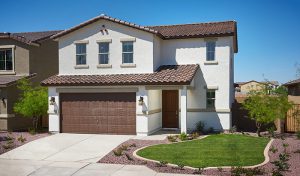 Still house hunting?
Richmond American builds personalized new homes that can qualify!
Browse your options at RichmondAmerican.com/HomeIn5
Assistance grant amounts are subject to change at any time without notice. HomeAmerican Mortgage Corporation is a participating lender in the Home in 5 program. HomeAmerican Mortgage Corporation's principal offices are located at 4350 S. Monaco Street, Suite 200, Denver, CO 80237 (NMLS Unique Identifier #130676; NMLS Consumer Access website: http://www.nmlsconsumeraccess.org), Arizona Mortgage Banker license #0009265.