Attractive interest rates, news of rising home values and tight rental markets have many Americans daydreaming about a new home. If you're one of them, you may be surprised by how much home you can afford—and how easy it can be to find out.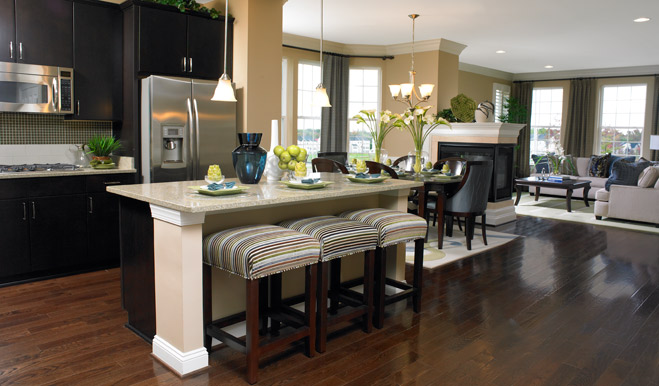 Step 1: Review your budget.
If you don't already have a budget, write down all of your regular expenses and determine what kind of payment you feel comfortable making every month. Need a budget worksheet to help you get started? There's one in our free First-time Home Buyer Guide »
When you have a detailed picture of both your income and your expenses, you can get a more accurate idea of how much you can afford to spend on a monthly mortgage payment. While mortgage programs and lenders vary, a general guideline is to spend no more than 31% of your gross income on housing costs.
Shortcut: Use your current monthly rent or mortgage payment as a starting point.
Step 2: Take a look at your savings.
Depending on the type of mortgage you choose, you should plan on making a down payment that's at least 3.5% of the price of the home. But, more is better. Why?
Some loan types, like conventional loans, require a higher down payment. The more you can pay down, the more financing options you may have.
Lenders may offer better rates and terms if you make a larger down payment.
If you have at least a 20% down payment, you may be able to avoid paying private mortgage insurance (PMI) by securing a conventional loan.
You'll pay less interest over the life of the loan.
To estimate how much you could save with a larger down payment, use a mortgage calculator.
Don't forget closing costs! When you're pre-qualified for a mortgage, your lender will provide you a closing cost estimate. In general, plan on spending 3% to 5% of the price of the home or estimate your closing costs here »

Step 3: Check your credit report.
While this isn't a strictly necessary step, it may help prevent surprises when you pre-qualify for a mortgage. By law, you're entitled to a free report from each of the three major credit bureaus annually. To request your credit report, go to www.annualcreditreport.com. Look for inaccuracies, such as accounts you didn't open, debts you've paid off, misspellings and other errors.
Interested in seeing your credit score (not just your report)? Enjoy our courtesy discount with Identity IQSM »
Step 4: Pre-qualify for a mortgage.
Pre-qualifying can be an easy way to determine how much you may be able to borrow. Contact a lender, such as HomeAmerican Mortgage Corporation (866.400.7126), to get started. Whether you pre-qualify online or by phone, you will need to have the following items handy:
Most current 30-day pay stub
All asset information (recent two-month checking/savings account info, retirement funds, stocks, bonds, etc.)
Dates of employment; address and phone number of current and previous employers
Two years' W-2s
Rental information for the last two years (if applicable)
With this information, a loan officer can give you an estimate on the amount you may be qualified to borrow for a home loan. Put that information into a financial calculator to see what that means in terms of your monthly payment. You may find that you're qualified to borrow more than you'd feel comfortable repaying each month.
If you're weighing the pros and cons of different home loans, be sure to check a mortgage calculator. You can compare the estimated differences between 30-year and 15-year mortgages, fixed-rate versus adjustable-rate loans, and more.
Tip: Online calculators are for estimating purposes only. You'll get better, more accurate answers by working through the pre-qualification process with a qualified loan officer.
Step 5: Start shopping!
At this point, you should have a clear picture of the monthly payment you'd prefer, the down payment you can afford, the amount you may be eligible to borrow, the interest rate you can expect and the estimated closing costs you'll pay. Now, it's time to see what that money will buy you in today's market, in your town. Search new homes here »