Even if you're a local, house hunting in the Las Vegas valley can be an adventure. Luckily, there are a variety of tools homebuyers can use to navigate their way through the city's varied neighborhoods.
Visit real estate websites—yes, more than one!
Most web-savvy shoppers are familiar with real estate websites like Realtor.com, Trulia, Zillow, Homes.com, Zip Realty and FrontDoor Real Estate. These searchable sites are great for finding homes that fit your budget and space requirements, but they may not be as good at giving you a feel for the neighborhood.
For a broader perspective, tap into the wealth of information available on homebuilder websites, like RichmondAmerican.com. We provide an overview of each neighborhood's amenities and even a map that shows nearby schools, shopping, dining, medical facilities and other attractions. Visit our Las Vegas community page and select a community to give it a try.
Master-planned community websites are another valuable source for neighborhood information. You can often find details about the area's parks and trails, community events, HOA guidelines, recreational facilities, planned improvements and more. Here are just a few of the master-planned communities in the Las Vegas valley: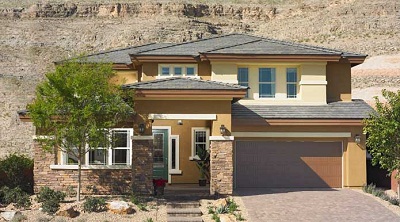 Summerlin in west Las Vegas
Southern Highlands in southwest Las Vegas
Providence in northwest Las Vegas
Mountain's Edge in southwest Las Vegas
Anthem in Henderson
While you're online, don't forget to check out each neighborhood's schools on an independent rating site, like greatschools.org. There's only one public school district in Clark County, so be sure to look at each elementary, middle and high school individually. Even if you're not a parent, the quality of your home's schools may impact your home's value when you're ready to sell down the road.
Recruit THE RIGHT real estate agent.
An experienced real estate agent with in-depth knowledge of the Las Vegas housing market can be an invaluable asset in your home search. The challenge? Finding an experienced real estate agent with the knowledge you need—especially if you're new to town. If you don't already have an agent, you might be interested in our article, 4 things to look for in a real estate agent.
Contact a New Home Specialist.
Even if you haven't considered buying a new home in Las Vegas, contacting a Richmond American New Home Specialist should be on your to-do list. At no cost to you, our local agents can take your new-home wish list—your desired price range, home features, commute time, etc.—and deliver a list of our communities and floor plans that fit the bill. Their area knowledge goes far deeper than home prices and bedroom counts; they can answer the questions a local would know.
Stationed at Nellis AFB? Your New Home Specialist could tell you that our Falcon Ridge community in North Las Vegas is less than five miles away. [SOLD OUT]
Looking for a ranch floor plan in northwest Vegas? Hidden Canyon Estates in northwest Las Vegas is a ranch-home community with easy access to the 215 Beltway. [SOLD OUT]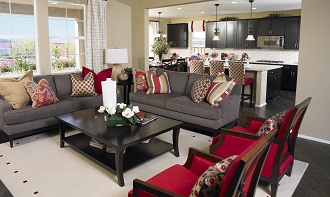 Attracted by the bright lights of the Strip? Our Copperhead Canyons community in southwest Las Vegas is about fifteen minutes away; close enough to enjoy the night life, but still come home to a quiet, comfortable neighborhood. [SOLD OUT]
Need a separate living area for live-in relatives or guests? The Ivy plan at our Grande Point community in south Las Vegas has a private apartment with a kitchenette, living room, second master suite, laundry and separate entrance. [SOLD OUT]
Prefer a gated community? Madeira Canyon in Henderson has attended gate access, a community rec center and more. [SOLD OUT]
Want to walk your children to school? Quail Run Estates in North Las Vegas is across the street from two elementary schools. [SOLD OUT]
Just call the Homebuyer Resource Center at 888-500-7060 to get started.
Touring new homes may give you a new perspective on what you can afford in the Las Vegas market. If you're coming from another state, you may find that property taxes are lower and real estate is less expensive than you're used to. If you've been renting in Las Vegas, you may be quite surprised by the monthly payments on a brand new home. A 2012 survey by Hotpads.com put Las Vegas on the list of 12 U.S. Cities Where It's Cheaper to Buy a Home than to Rent One. In 2011, Trulia's Rent vs. Buy Report ranked Las Vegas highest in the country for buying instead of renting.