Moving to a new home is an exciting process, but it can also be confusing and chaotic. To save you time and stress, we've compiled a number of moving tips and online resources to help you stay on track for a successful moving day.
The home search. The first step in the moving process is deciding exactly where you'll be moving to. You may want to start by perusing local listings and the websites of homebuilders in your desired area. These will give you an idea of the various local neighborhoods, nearby amenities and what you do and do not want in your new home. Some sites even allow you to compare favorite floor plans across communities. Once you have a solid new-home wish list, you can enlist a real estate agent who is familiar with the area and can point you in the right direction while answering remaining questions.
Still feeling overwhelmed with the new-home search process? A valuable moving resource for new and veteran buyers alike, our free First-time Homebuyer Guide provides more advice and information.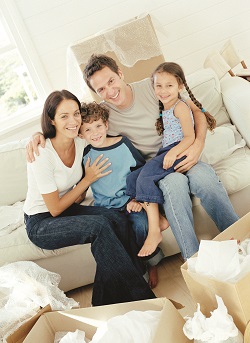 The purchasing process. You've found your dream home, but can you afford it? To get an idea of how much house is within your budget, try an online mortgage payment calculator. Once you've nailed down your finances, contact a dedicated loan officer, like those at our affiliate HomeAmerican Mortgage, to walk you through the application process. About a month before closing, you'll also want to insure your new investment. An insurance specialist can help you find a policy that's tailored to your specific home, budget and lifestyle needs.
The preparation and packing. Make sure you're ready for moving day by starting early in order to avoid last minute stress. A moving checklist can help you get organized and develop a clear plan of action so you don't miss any essentials. Decide whether you'll require a moving service or just a rental truck, and use online moving resources to compare estimates. Before booking a moving company, ask them the important questions provided in this article to see if they'll be able to meet all of your needs and that you won't be slapped with hidden charges.
Want more moving tips and tools? Get our Ultimate Moving Pack, filled with helpful worksheets and checklists.