Thinking about relocating to the Orlando area? You're not alone. Homebuyers are flocking to the region in droves—and we're not just talking about snowbirds! There are numerous reasons to call O-Town home. Here are our top five: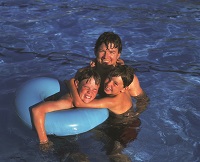 Weather. If you love warm weather (and really, who doesn't?), Florida's tropical climate can't be beat. The winters are mild (the average high in January is 71 degrees!) and although temps can climb in the summer, gentle breezes, rustling palm fronds and an abundant water supply—think swimming pools, ponds and lakes, not to mention several beaches within driving distance—make escaping the heat easy and fun!
Location. Orlando is conveniently situated in the center of the Sunshine State, offering easy access to other Florida hotspots, including Miami, Naples, Sarasota, Tampa and Destin. Imagine being able to plan last-minute getaways to popular vacation destinations without having to pay for pricey airfare!
Cost of living. Compared to other popular cities, such as Miami, New York and San Francisco, the Orlando area is very affordable. In fact, the cost of living in Orlando is lower than the national average. An added bonus: Florida is one of just a handful of states that don't have a state income tax!
Job opportunities. The economy in the Orlando area is booming, thanks in large part to the year-round tourism industry. The region, which sports a long history of entrepreneurship, is also home to a number of other industries including technology and education (the University of Central Florida in Orlando is the second largest university in the nation!), according to the Metro Orlando Economic Development Commission.
Recreation. Orlando has been dubbed "The Theme Park Capital of the World," and locals can take advantage of special in-state deals at Walt Disney World, Universal Studios, Sea World, Legoland and more. However, entertainment options in the area extend well beyond theme parks. Residents will appreciate numerous galleries, museums, shops, restaurants and event venues as well as popular outdoor recreation, including boating, fishing, watersports, camping and hunting.
If you're thinking about relocating to the Orlando area, consider one of the following exceptional Richmond American communities.
Bella Lago
New Clermont homes from the low $300s
Up to approx. 4,200 sq. ft.
View community »
Brynmar
New Ocoee homes from the low $200s
Up to approx. 3,100 sq. ft.
View community »
Drayton Woods at Providence
New Davenport homes from the mid $200s
Up to approx. 3,400 sq. ft.
View community »
Eagles Landing at Westyn Bay
New Ocoee homes from the upper $200s
Up to approx. 3,400 sq. ft.
View community »