You're a modern homebuyer: savvy, informed and determined to do as much shopping as possible online. So before you come to the aspects of your home search that the internet may never offer a complete substitute for—a home walkthrough, inspecting your new lot, handpicking custom options and upgrades with a design specialist—here are some top resources for narrowing down your home search from the comfort of your own home.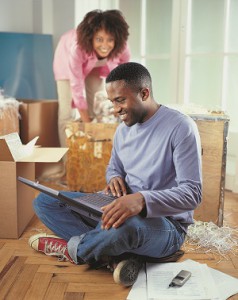 Social networks
In today's connected world, we turn to our friends for reviews on everything from new electronics to car purchases and more. Why should home-shopping be any different? Ping your friends on social media that might have knowhow on a particular area you're interested in. Quiz them on everything from the best neighborhoods and school districts to trustworthy real estate agents and where you'll find your preferred balance of urban and rural living.
Google Map it!
It may sound cliché by now to be told to "Google it," but Google Maps truly is one of the best resources for getting the feel of an area. Have a list of all the amenities you'd like to live close to. Jot down things like whether you want your kids' school to be within walking distance, how far you're willing to drive to work, if you prefer living close to public transportation, etc. Then map out your list and narrow your search down to a few areas you could be serious about living in.
Advice forums
There are several forums where industry experts are more than happy to answer your questions about the homebuying process. Sites like Trulia Voices and Zillow's Advice forum allow local real estate agents to directly respond Q&A-style to your questions, while other sites offer up handy articles to guide you through your home search. Such resources also have the potential to point you in the direction of reputable real estate agents, as well as offer you pooled data on everything from school ratings to crime statistics and local demographics.
Agent comparison sites
There's no silver bullet of a website for finding the perfect real estate agent, but then you're already accustomed to surfing multiple consumer review websites to find exactly what you're looking for. With that in mind, be prepared to rely on multiple channels to find an agent worthy of trusting with one of the most important financial decisions of your life. And once you find an agent, be sure to interview them and conduct extensive research before committing.
Zillow, Yelp and Trulia all offer fairly robust review sites. Redfin takes a slightly different tack with its review section. Agents featured on the site are employed or engaged by Redfin, and are compensated in part based on positive reviews they receive from customers.
Home listing sites
So you've done as much research as you can without actually scouting listings. You know the neighborhoods you like, the school districts, the local amenities, commute time and more. All that's left is to begin exploring the houses themselves. For that, there are numerous search avenues. Some third-party listing sites have already been mentioned above: Zillow, Trulia, Redfin, Realtor.com. These sites receive updates on new listings from multiple listing services (MLS), individual sellers, agents, brokerages and homebuilders. Keep in mind that such sites will have variation in their listings, depending on how quickly they update and from what sources.
For an even more rounded-out search, go directly to homebuilders' sites, where you can often peruse listings before they appear on third-party sites, giving you better odds of first dibs on a possible dream home. And of course, once you find a real estate agent they may also be able to get you in on the ground floor for new listings.
Are there any top resources we missed? Tell us about it on Twitter or Facebook!
Also, kick-start your home search with Richmond American's own online resources:
•Sign up for our interest list »
•Search our database of new home listings across the country »