If you haven't been paying attention to mortgage news in the past year, you should know there have been some changes. Homebuyers looking to apply for a home loan in 2014 will face different options and challenges than buyers had in previous years.
Do you still qualify for an FHA loan?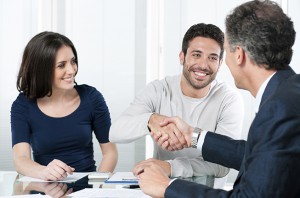 Benefits such as lower down payment and credit score requirements have drawn homebuyers to Federal Housing Administration insured mortgages (FHA loans) for years. However, as of January 1, 2014, FHA loan limits lowered across the country. Now some homes that may have qualified for an FHA loan in the past will have to be financed through other means.
In Los Angeles County, for example, the FHA loan limit was $729,750 in 2013. In 2014, it changed to $625,500. Homebuyers who want to purchase a home that costs more than $625,500 in LA will have to choose a different type of financing. Find the loan limits for your county »
If you planned on purchasing a home with an FHA loan and it is no longer an option, be sure to speak with a loan officer about other mortgage choices.
Weighing your other options
FHA loans may not be possible for all, but there are plenty of other financing opportunities available. Below are some additional options. Be sure to weigh the pros and cons of each type of loan and speak with a loan officer about your individual circumstances.
Conventional mortgages
Conventional mortgages are mortgages that are not obtained under a government insured or guaranteed program like FHA and VA loans. Conventional loans typically require a minimum down payment of 5%.
Department of Veterans Affairs guaranteed mortgages (VA)
If you are currently in the United States military, or if you have ever served in U.S. armed forces, you may be eligible for a VA loan. You can even qualify if you are an unmarried spouse of a veteran who died on active duty. VA loans are very popular with those that qualify because you may be able to purchase a home with little or no down payment and monthly mortgage insurance is not required.
Bond loans and rural housing loans
Bond loans and rural housing loans may be available in your area. Your loan officer will be able to tell you whether they are available and if you can qualify.
Fixed rate or adjustable?
It's an age-old mortgage question that's a little bit like asking "should I buy a car or lease one?" The answer depends on your situation and preferences.
Fixed-rate mortgages will continue to be a popular option in 2014 for homebuyers looking to stay in the same home for a long period of time. The rate is fixed and the monthly principal and interest payment is consistent for the entire life of the loan. Many homebuyers find this option comforting because they know what to expect and won't be hit with interest rate hikes down the road.
ARM loans can also be a great option, depending on your circumstances. For one thing, the initial interest rate tends to be lower. Those who move frequently can save a lot with this option. For example, if a homebuyer opts for a hybrid ARM with an initial "fixed period" of 5 years and moves three years later, that buyer enjoyed the lower rate for the entire time they were in the home. The lower payment every month can add up to big savings.
Need expert advice to help you make the tough mortgage calls? An experienced loan officer can help. Contact HomeAmerican Mortgage Corporation today: 866-400-7126.