Make laundry less of a chore with some creative improvements to the laundry room. These ideas may help you maximize the usability (and joy!) you can wring from this under-appreciated space.
Decorate on a theme.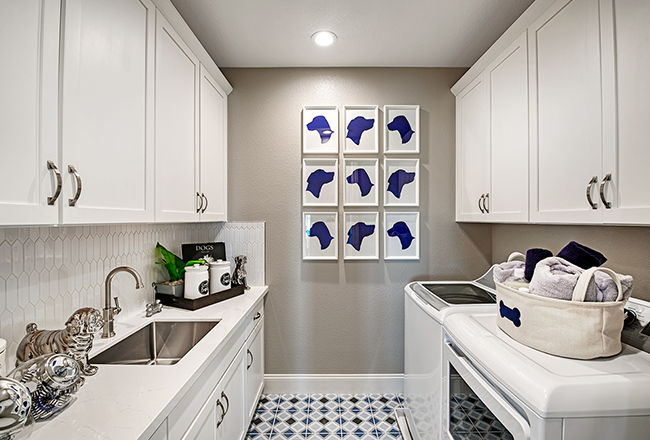 Everything in your home should reflect your personal taste and style, but that's especially true in a place where you're not always excited to spend time. When designing the laundry room for your new home (or renovating your old one), keep some of these tips in mind:
Choose laundry room colors that brighten the area and make it feel as large and open as possible. Who wants to fluff and fold in a cave?
Go neutral on colors and surfaces that are hard to alter, like laundry room flooring, countertops, cabinets and other shelving. If you decide to change up the décor to keep it as fresh as your laundry, you'll be glad the process is as easy as swapping out wall art, curtains and other accessories.
Don't be afraid to express yourself! Unlike many areas in the house like the kitchen and great room, the laundry room is usually restricted to members of the household and the occasional houseguest. If there's something you love—a vacation spot, a favorite dog breed, a pop culture creation—why not include it in this uniquely personal space?
Keep it functional. Let your creativity shine, but make sure it doesn't diminish the room's usability. Too many accessories on countertops could take up important workspace. Balance isn't just for dryer drums.
Light it up!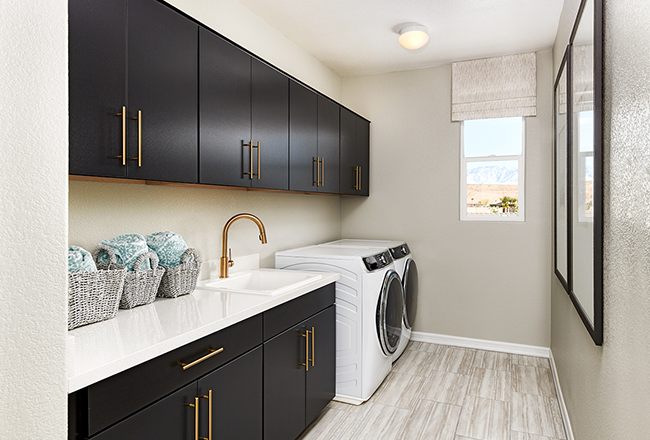 If you don't have windows to let in natural light, you'll want to choose laundry room light fixtures that keep the space comfortably bright. Too much harsh light can be irritating. Too little may make you sleepy and unmotivated—plus, you might miss some stains that need attention! Under-cabinet lighting may also be valuable for you if you plan to use your countertops as folding or prep spaces.
Multipurpose.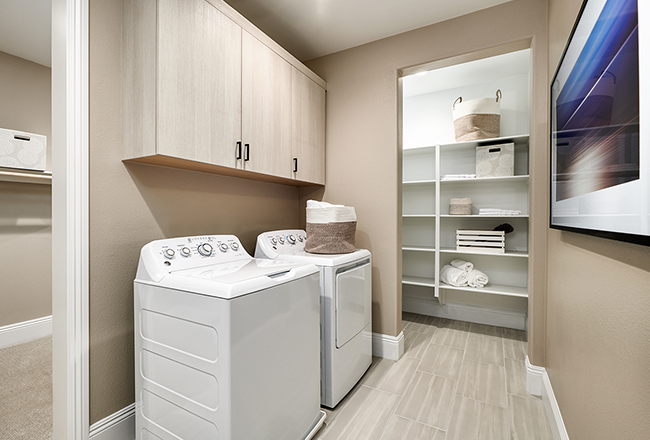 Depending on the location and features in the laundry room, it may be able to pull double duty as a mudroom, pet spa, additional linen closet and more! Take a look at the space and think about the possibilities. If the room is just off the garage entry, would it be a good place to hang a coatrack or store footwear and outdoor gear? If it's upstairs by the bedrooms, is there a spot for storing extra sheets and towels? Do you have a laundry room sink that would make it easy to tackle dirty jobs from around the house? Sometimes a room's greatest contribution to your quality of life is in how much clutter and mess it can prevent in other parts of the home.
Organize to optimize your time.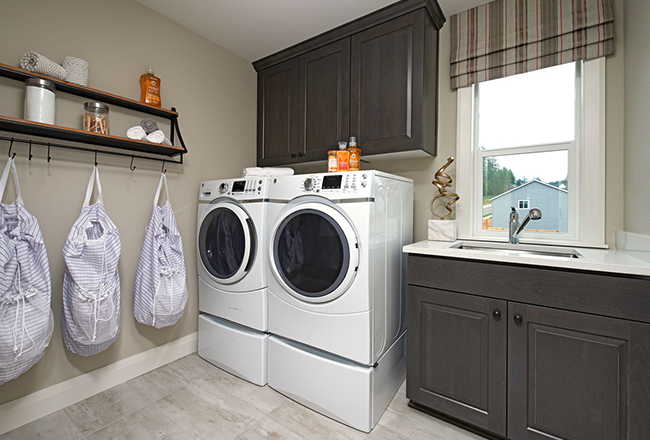 Think about your optimal laundry workflow. Do you sort your laundry before it gets to the laundry room, or will you do your sorting there? What about folding and hanging clothes? Ironing or steaming? Will you want to do stain pre-treating on the spot? How much you want to do inside the four walls of the laundry room, versus your bedroom or elsewhere, will determine how much room you need and how you'll want to organize it.
I want to do all my laundry prep in the laundry room. Great! Consider smart features like a countertop work surface, folding ironing board, room for sorting hampers, a laundry room sink, a clothes rack, storage cabinets and more.
I do my laundry all around the house. Go, you! There's nothing wrong with folding clothes on a bed or couch while watching TV or hanging out with your family. If that's what works for you, you probably don't need a particularly large or sophisticated laundry room. But, you might be glad to have the extra storage that laundry room cabinets provide, especially if you keep them organized with labeled bins for ease of access.

Check out our Pinterest board for ideas on how to keep the laundry room (large or small) clean and clear of clutter!
You may also be interested in these articles:
New Home Features to Improve Organized Living
How to Find a Home Floor Plan You'll Love for Life
5 Steps for Organizing Your Laundry Room
Not sure what you want in your next home?
Get a room-by-room lifestyle guide, floor plan worksheet, model home touring tips and more in How to Choose the Right Floor Plan for Your Lifestyle!