When we ask homebuyers "Which room was your favorite to design?", most respond with "the kitchen!" Perhaps it's because the kitchen is the heart of the home, the place where everyone always gathers to celebrate life's big moments. Or maybe it's because the kitchen offers so many opportunities for personalization, from the flooring and countertops to the cabinets, appliances and lighting. Regardless of the reason, designing your dream kitchen is an exciting part of the homebuilding process, and we'd like to draw your attention to an important element that deserves careful consideration: the backsplash.
Is a backsplash really necessary?
Because kitchen backsplashes are typically designed to catch the eye, many people mistakenly believe that they are purely decorative in nature. However, backsplashes actually serve a very important function: protecting the kitchen walls from accidental water damage and food splatters. More than just a design element, backsplashes are equal parts beauty and brains!
Wondering how to choose a backsplash?
Well, you're in luck. Our talented team is sharing some of today's top trends in backsplash design. Whether you prefer a contemporary, transitional or traditional aesthetic, we've got you—and your kitchen walls—covered!
Subway tile backsplash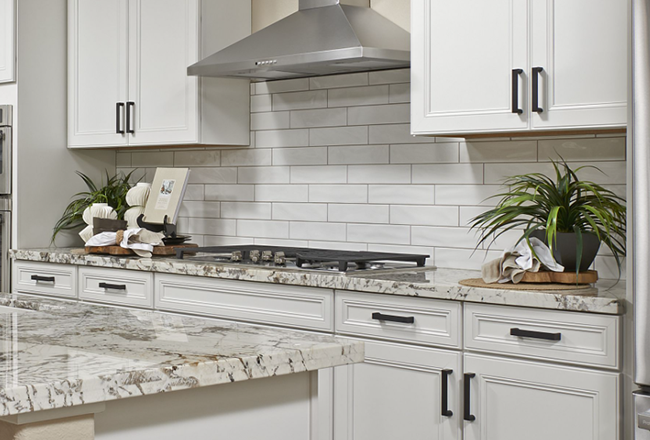 Named for the tiles in the famed New York City subway system, subway tile is a versatile, timeless option that works well in a traditional, transitional or modern setting. If you're someone who appreciates the classics, you can't go wrong with 3″ x 6″ subway tile in glossy white! If your style is a bit bolder, select a beveled subway tile or a shade (or shades!) that speaks to you and add dimension with a contrasting grout!
Hex tile backsplash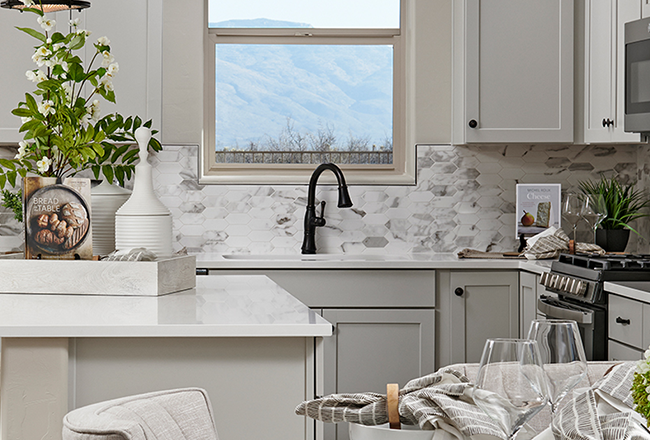 Hexagonal (a.k.a. hex) tile backsplashes, as the name implies, are composed of six-sided tiles ranging in size and color. They are a perfect pick if you're looking to add a little whimsy to your eating space, but depending on your tile selection, they can also be used to enhance a traditional or transitional kitchen.
Chevron tile backsplash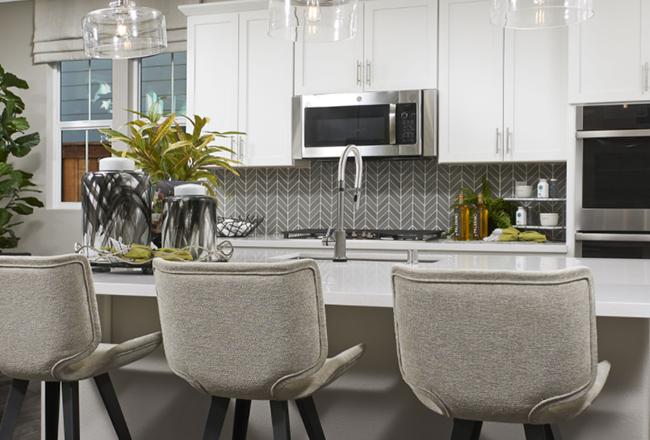 Named for its distinct chevron (zigzag) pattern, a chevron tile backsplash can be soft and sophisticated, bold and playful or dark and dramatic. It all depends on the size of the chevrons and the color of the tile. While many would categorize a chevron tile backsplash as modern, when done in neutral or muted shades, it can add a timeless or transitional touch to any kitchen. So, if this chic pattern catches your eye, speak with a design consultant about your options!
Herringbone tile backsplash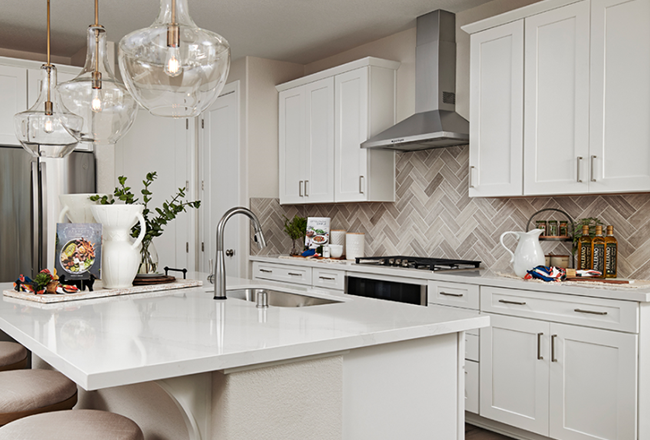 This popular tile pattern, which resembles the bones of a fish, is often confused with chevron. However, if you look carefully, you'll notice that the ends of the tiles are rectangular whereas chevron tiles are cut at an angle. By playing around with various colors, a herringbone tile backsplash can range from traditional (think whites and soft beiges and grays) to modern (picture bold, bright colors) in style. If you want your backsplash to make a big splash, consider installing your tile in a herringbone pattern!
Curved mosaic tile backsplash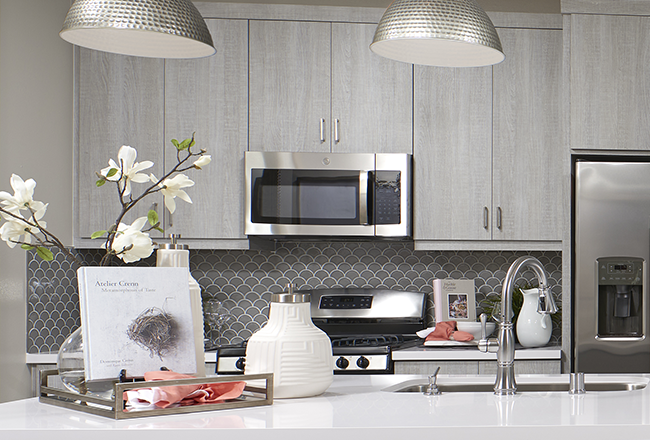 Our designers are big fans of mosaic tile backsplashes! They serve as a fabulous focal point in any kitchen but replacing square edges with soft curves adds even more character. If you're going for a classic, elegant design, choose curved tiles in an understated white or neutral shade. To make a more modern statement, add in some dark tones or select a single vibrant color that's sure to garner attention.
Be prepared for your design appointment
Our design road map helps you know what to expect when it comes to personalizing your new living space.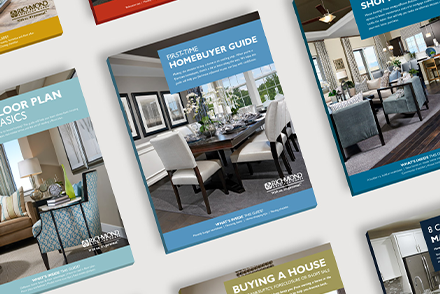 We hope we helped you figure out how to choose a backsplash (or at least narrow down your options!). If you're seeking even more design inspiration, check out these quick reads:
Please note that backsplash tile selections may vary by region.