Whether you're moving across town or across the country, relocating to a new area comes with its challenges. For children, who often have little or no say in the decision, it can be a difficult transition. As a parent, you're in a unique position to help shape your child's outlook on moving. Downplay the negative and promote the positive (after all, moving can be a wonderful adventure!) and your kiddo will be well on his or her way to a smooth and successful move!
Here are some helpful hints for talking to your child about relocating: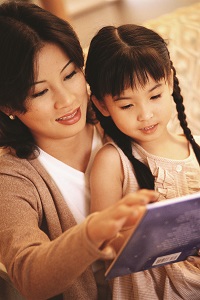 Be honest. Once you've made the decision to move, tell your child as soon as possible. Be open and direct—and fully prepared to answer any questions he or she may have. Providing your child with all of the essential facts will help him or her feel secure and empowered and (ultimately) at peace with your decision to relocate.
Maintain a positive attitude. Your child will likely take his or her cue from you, so be sure to remain positive when discussing your upcoming move. Even if the decision to relocate is out of your control (e.g., job transfer, financial issues), point out all the positive aspects of moving into a new home in a new area.
Be prepared for any reaction. Sorrow, anxiety, excitement, indifference…There's no way to predict how a child will react to news about an upcoming move, so be ready to navigate a wide range of emotions. Let your child know that his or her reaction is perfectly normal and emphasize that you are there to listen and support him or her during this time of transition.
Explain in a way your child will understand. For a younger child, describe the process of moving, read him or her books about the subject (e.g., Bell's Big Move, The Berenstain Bears' Moving Day) and talk about all of the new friends he or she will meet. Encourage an older child to go online and research the new city, neighborhood, school, etc. Also, remind your child that there are many ways in which he or she can keep in touch with old friends after the move, such as via email, social media, skype and return visits.
You've sat your kiddo down and talked about the big move. Now what? Following are some things you can do to help ensure a smooth move:
Plan a quick visit. If possible, consider taking your child to check out the new home and/or city ahead of time. Point out local amenities (e.g., shopping mall, restaurant, library, soccer field) that may provide a sense of familiarity and comfort. If a visit isn't feasible, ask a friend, relative or real estate agent to snap some pics of your new home and surrounding area, or go online to access this information.
Get your child involved. Allowing your child to make some basic decisions about the move can help alleviate anxiety and promote feelings of excitement. You can ask your kiddo to help by accompanying you on your house hunt, creating moving checklists, organizing and boxing up belongings (it's very important to assure young children that you are simply moving—not disposing of—their treasured possessions) and choosing décor for his or her new bedroom.
Maintain routines. Try to adhere to your normal schedule as much as possible when planning your move. Maintaining rituals, such as mealtimes, bedtime and family movie night can help allay a child's fears that moving means that every aspect of life is going to change.
Looking for additional ways to help your kiddo prepare for a move? Check out Going-away party ideas for kids (or grown-ups!) or A moving checklist for your kids.