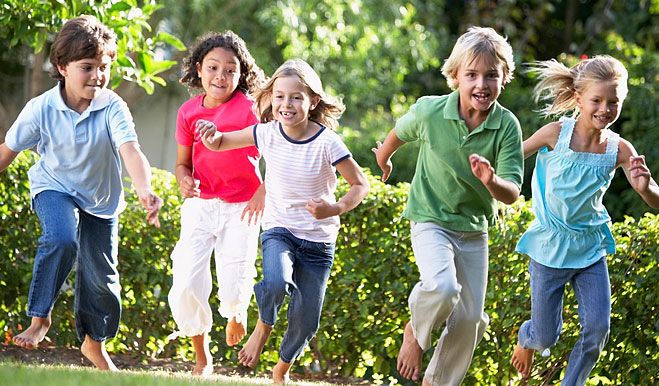 A big move can be a big adjustment—especially for children. One way you can help them get excited about the move is to throw a going-away party. Here are a few ideas to get you started, but feel free to follow our Moving Party board on Pinterest for even more inspiration.
Let your child help with the planning. During a move, kids can feel like a lot of things are out of their control. By letting them make choices about their party's guest list, invitations, food, activities, theme, favors and other details, you'll give them a chance to feel in charge. Plus, all the party planning will only add to their anticipation.
Look for ways to build memories. With a few inexpensive materials, party guests can help you create a beautiful keepsake for your child to display in her new room. Wedding planners have had years to come up with whimsical ideas that you can adapt for a moving party. Some of our favorites include:
Thumbprint art – Using different colored inks or paints, your child's friends can add thumbprint leaves to an illustrated tree, balloons in a bunch, etc. Signatures and well wishes by each thumbprint will further personalize this frame-worthy memento. Pro tip: be sure to keep cleaning wipes on hand!
Memory jar – Have older children write a favorite memory on river stones, decorative cards or other small items that can be attractively displayed in a jar or shadow box. Alternatively, you could have them use Jenga® blocks or puzzle pieces for a more hands-on keepsake. Have the puzzle custom made from a group photo for added nostalgia.
Find opportunities for your child to keep in touch. It's easy for adults to keep in touch with friends via email, texts or social media, but children don't necessarily have that luxury. If your kids aren't online (or even if they are) they can always make use of the good old postal service.
Create a birthday calendar – This idea does double duty as a souvenir and a way to keep in touch. Simply set out a calendar and ask guests (or their parents) to sign on their birth date. That way, as weeks and months go by, your child will be reminded of old friends and have a chance to send them birthday wishes.
We've moved! cards – Set out a stack of blank new address announcements and have your child's friends each address their own. Later, you can collect all the addresses for your records, then send out the cards with your new address attached.
Take lots of photos! Smartphone cameras have made it easy to take lots of photos and videos for free. Encourage any parents at the party to snap away and give them an easy way to share their shots.
Pass around photo props, like chalkboard conversation bubbles, costumes or frames.
Set up your own photo backdrops using fabric, wrapping paper, maps, empty frames, newspaper or posters.
Thanks again to the wedding crowd, there are many event photo sharing apps around—in addition to the usual social media options like Facebook, Pinterest, Flickr and Instagram. The key is to pick one platform and have everyone contribute to it. If you'd prefer to keep things local, just set up a public folder on your home computer and give your guests the wifi access info.
Looking for other ways to help your child prepare for a move? Check out our Moving Checklist for Kids!