Popular
(and free)

guides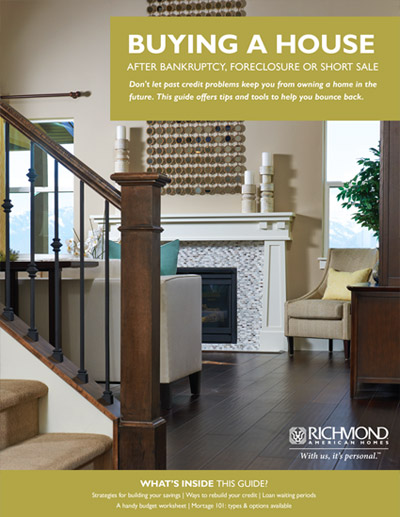 Buying a house after bankruptcy, foreclosure or short sale
Yes, it's possible to own again!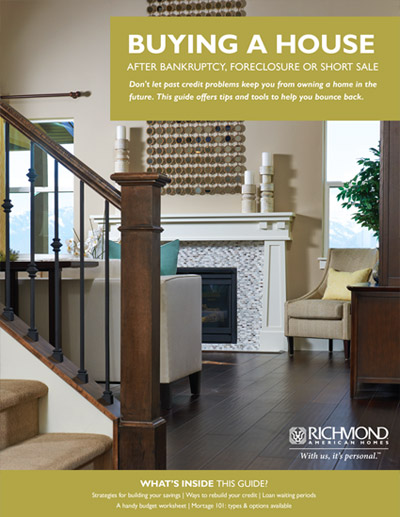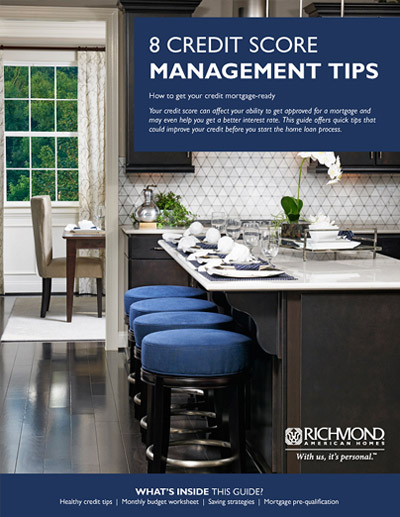 8 credit score management tips
Stay on the path to healthy credit with our FREE guide.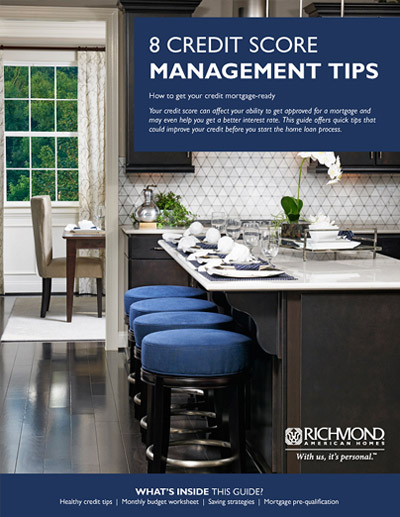 Promo title goes here
2 promo content will go here
Searching for home builders in Florida? Richmond American would be proud to build your home with the quality craftsmanship that's made us one of the nation's top home builders. Our communities in Orlando and the greater Jacksonville area offer all the Florida sunshine and outdoor recreation you could ask for.
FLORIDA HOME BUILDERS
Looking for home builders in Florida? Many families are drawn to the Sunshine State for its sparkling coastline, beautiful beaches and world-class resort life. You'll have your fair share of choices for where to live, and by working with Richmond American Homes, you can find your perfect Florida dream home today. Search our new Florida homes for sale and discover the craftsmanship that is uniquely Richmond American Homes. With 24 communities offering new homes for sale in Boca Raton, along with new homes in Jacksonville and new Orlando homes for sale, you'll be able to find the one that fits your lifestyle and gives you a unique sense of belonging. Let Richmond American Homes help you find the right community and home for you.
WHY BUY NEW?
While there are many resale or foreclosed homes on the market today, often times you're limited by locations, features and characteristics of the home. New houses present a number of unique benefits. For example, you get to select from hundreds of stunning design finishes personalized for you and the way you live. You also get to choose a floor plan that gives your family room to grow. New homeowners enjoy the experience of moving into a spotless, never-been-lived-in home instead of cleaning up after another family. Another great advantage of modern homes is that many home builders offer new home warranties, ensuring homeowners will be taken care of if anything goes wrong after moving day.
TIPS FOR CHOOSING A HOME BUILDER IN FLORIDA
Deciding between new homebuilders in Florida can involve research and model home visits. You'll want to look closely at the financial stability of the builder, as this factors into your peace of mind that you made the right choice. If personalizing your contemporary home is important to you, research what options a builder offers. Many advertise selection but are actually limited in what they offer. Ask a few pointed questions to help in your decision:
Does the builder allow you to personalize your home with selections from hundreds of choices while still offering quick move-in options?
Are the neighborhoods developed to give each home a distinct look?
How long has the builder been in business and how many new homes have they built?
Does the builder have a strong financial position?
TIPS FOR CHOOSING A HOME BUILDER IN FLORIDA
Richmond American has 24 communities in Florida's most desirable areas. If you are evaluating which area of the state will fit your lifestyle best, consider the top priorities for your family. How close would you like to be to the coastline? Or, would you prefer to be further inland? Put a checklist together of your top priorities and it will guide you in selecting a region that you'll be happy to call home for years to come. Richmond American has a variety of communities in these three, key Florida areas: