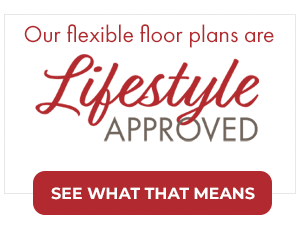 The times are changing, and so is the way your clients shop for and live in their new homes. But don't worry—we've got you covered!
People are spending more time relaxing, working and entertaining at home than ever before. So, it should come as no surprise that house hunters are seeking floor plans designed for today's lifestyle. Bonus rooms, home offices, tech centers, finished basements, outdoor living spaces and even RV garages now top many homebuyers' wish lists. In response, our architects have outfitted our floor plans with an exciting range of features that are sure to appeal to your clients.
Selling a lifestyle
When your buyers contract with Richmond American, they're choosing more than just a home. They're choosing a lifestyle. Because when a home adapts to their specific needs and functions optimally, it can, in fact, be life changing. That's why we like to say that our floor plans are "Lifestyle Approved!"
Whether your clients want to build from the ground up or opt for quick move-in homes, you can help secure sales by promoting the lifestyle benefits of our versatile floor plans. This information appears on the homepage of our website and throughout our social media messaging, so be sure to share it with your buyers!
Another way you can emphasize the advantages of our Lifestyle Approved floor plans is by touring our models with your prospects and pointing out all of the in-demand features designed for the way they live. For instance, a bonus room can serve as a craft room or a playroom, and an RV garage can be converted to a home gym or a workshop, depending on the homebuyer. There are so many possibilities!
Let us do the heavy lifting!
We're here to help you help your clients find new homes that fit their lifestyles. Call 888.996.3060 to schedule appointments, get inventory lists, ask about our special offers and more.
Unlock Secrets to Selling New Homes
You know resale, but how well do you know new homes? Our free guide is packed with tips for navigating the new home niche.