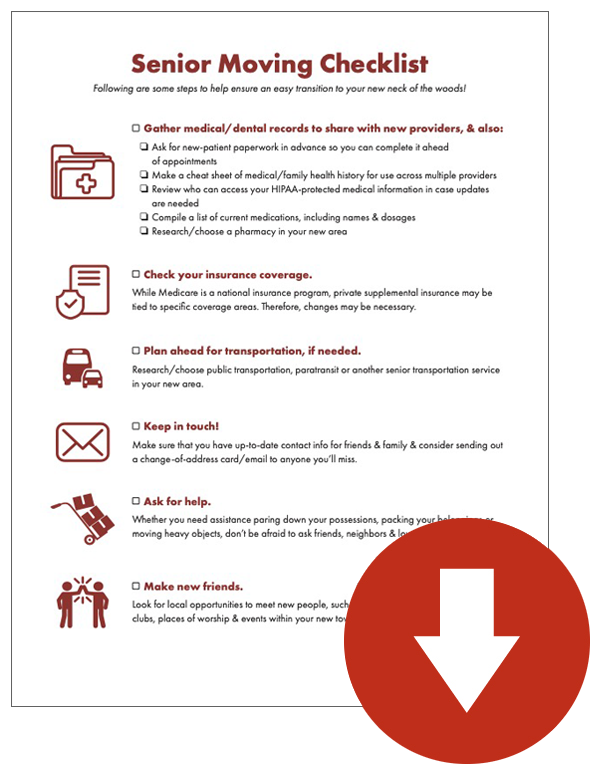 Do you have elderly clients relocating from out of state? If you're in a sunbelt market, the answer is likely yes! Whether they're moving on their own or joining local relatives (and perhaps looking for a larger, more accommodating space for their multigenerational household), we've rounded up some tips to help make the transition a smooth one. Be sure to print out our Senior Moving Checklist and pass it along to your older clientele!
Gather your medical records.
Each doctor's office should have a form for you to fill out that releases your medical records to your new healthcare provider. It's much easier to take care of this in advance, so your next doctor will have all your records on hand when you arrive for your new-patient appointment. Note: Don't forget your dentist, optometrist and other specialists!
Other time-savers for new-patient appointments:
Ask if you can get the new-patient paperwork in advance, so you don't have to fill it out in the waiting room.
Make a cheat sheet of your medical and family health history. Different doctors often have the same questions, so why make yourself think about names, dates and conditions every time you engage a new provider?
Review in advance the list of people you'd like to have access to your HIPAA-protected medical information—especially if you're moving in with relatives who might have a hand in your care.
Bring your current medication list, including names, dosages and the times you take each.
Decide which pharmacy you'd like to use near your new home and have that address on hand.
Check your insurance coverage.
While Medicare is a national insurance program, there are a variety of supplemental insurance plans offered through private insurance companies that may be tied to specific service areas (e.g. Medigap, Medicare Advantage, prescription drug plans). Before you move, be sure to check with any private insurers to see if changes will be necessary.
On the bright side, if you do have to switch providers, this could be a good opportunity to shop your options outside the Open Enrollment Period! Consult a licensed health insurance broker if you need advice, and beware of Medicare scams.
Plan ahead for transportation (if needed).
If you're accustomed to using public transportation, paratransit or other senior transportation services, look into your options in your new area. You may need to apply in advance for some programs, so the sooner you enroll, the better!
Keep in touch!
Moving away from friends, family, social clubs and neighbors can be tough, but there are ways to maintain those relationships long distance. Consider carrying around a notebook for a week or two, and have people jot down their contact info if you don't have it already. When you're close to Moving Day, send out a change-of-address card (or email) to anyone you'll miss.
Ask for help.
Whether you need assistance paring down your possessions, packing your belongings or moving heavy objects, don't be afraid to ask friends, neighbors and loved ones for help. Plus, doing so will provide you with an opportunity to spend more time with the people who are important to you before your big move.
Make new friends.
Your new address can be the start of a whole new social life! Look for local opportunities to meet new people, such as rec center classes, book or hobby clubs, places of worship and events within your town or neighborhood. Some master-planned communities have mixers, block parties, concerts and other get-togethers to help neighbors connect.
Want to help clients stay organized & on track during their big move?
Share our FREE Ultimate Moving Pack!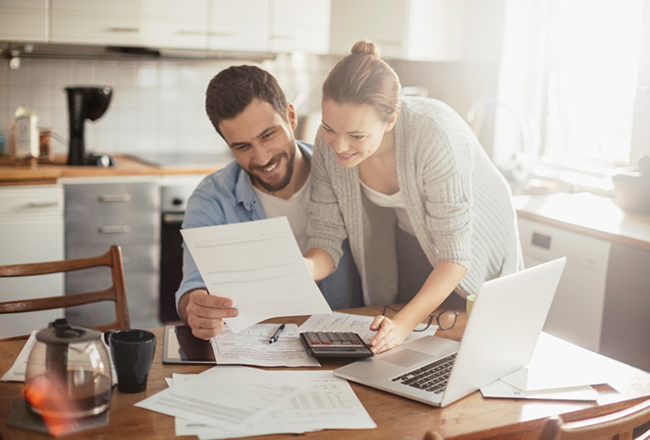 If you found this Senior Moving Checklist valuable and want more moving tips for your clients, including our 2-month moving checklist, check our homebuyer blog!