Building a home from the ground up gives you the freedom to choose a floor plan that fits your lifestyle. But with so many options to choose from, where do you start?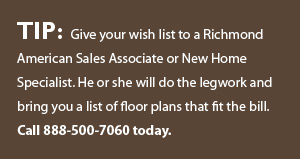 Make a wish list.
How many bedrooms do you need? Should any of them be on the first floor for easier access? Is a gourmet kitchen important to you? What about space for a home office or a playroom? By making a list of the features you want, you can focus on what's most important to you.
Need a checklist to get you started? Get a copy of our free
First-time Homebuyer Guide here »
View interactive floor plans and options online.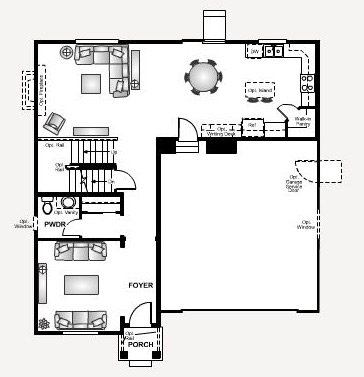 Many homebuilders post their floor plans online, and some have ways to filter their search results by the number of bedrooms, bathrooms and other features you've decided on. At RichmondAmerican.com, for example, you can use interactive floor plans to see a home's various structural options, plan your furniture layout and even save and compare plans. Many floor plans also have a virtual tour so you can see how the home will look once it's built.
Tour model homes.
Once you've narrowed down your options, visit models of the plans you're interested in and really take your time. Pack your camera and a notepad so you can record your thoughts for later. Imagine where you would place your furniture, and bring a tape measure to make sure it will fit. Pay attention to the little things, like how far you'll have to carry your groceries from the garage and where you'll fold your laundry. It's amazing how much you can learn from a model home tour if you know what you're looking for.
EXAMPLES
Closet space: If your current closets are already overflowing, make sure your new home offers significantly more space, especially if you're planning on growing your family.
Dining room/family room area: Will the living areas of the home accommodate your family comfortably?
Furniture arrangement: Where will you place your television and your coffee table? Does the layout of the family room accommodate the size of your couch? Can you comfortably fit a nightstand on either side of your bed?
Doorways/hallways: Measure the doorways and the hallways to make sure your furniture will fit through.
Electrical outlets: Are outlets conveniently located (i.e. where your end tables will sit, in media niches, etc.)?
Plumbing: Is the bathtub faucet conveniently located? Do you have to reach over the toilet to run the water in the bathtub?
Garage space: Do you need extra work or storage space in addition to parking?
Window orientation: Which side of the house gets sun during the day? Are there enough windows to let in natural light during the morning or afternoon?
Even if your homebuilder doesn't have a finished model of the floor plan you want in the community you've chosen, chances are there's one at a nearby community. Any Richmond American Sales Associate or New Home Specialist can direct you to our closest model or quick move-in home that showcases a given plan. Find a community near you »
Remember, this is a chance to review not only a home's floor plan, but also your potential homebuilder's craftsmanship and attention to detail.
Preview your exterior options.
Your new home's exterior should feel as much like home as your bedroom, family room or kitchen. Ask what exterior options are available for the floor plan and homesite you're eyeing. If possible, have your homebuilder show you finished examples so you'll know just how your home will look from the curb.

Like this article? Get our free guide, How to Build Your Dream Home. It's filled with helpful tips and tools to help you understand and plan for the homebuilding process. Find it here »