You've found your dream home—now it's time to insure it! Selecting the right home insurance policy is important not only because it may be a condition of your home loan, but also because it can offer you and your family greater peace of mind. If the unexpected happens, homeowners insurance can provide coverage for losses and damages to your house, its contents (including pets and personal belongings) and even personal liability for people inside your home or on your property.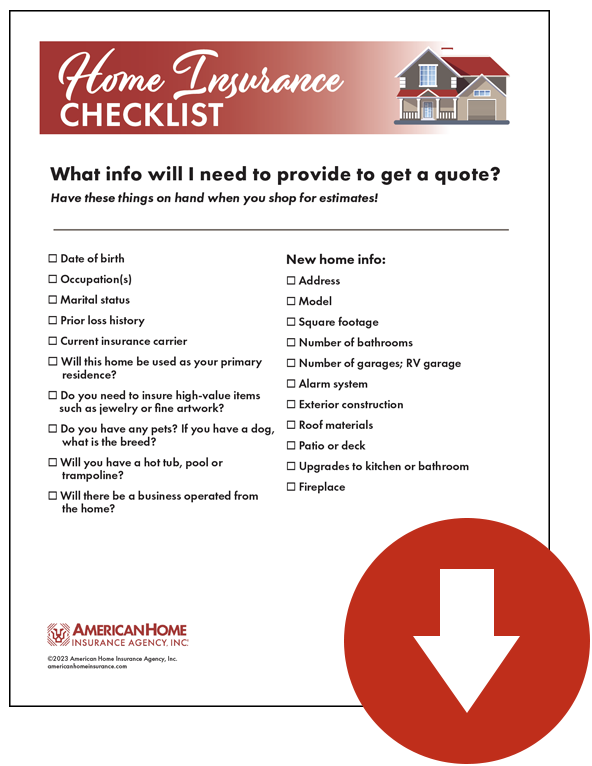 So how do you begin shopping for policies? First, you'll want to gather some necessary information about yourself, your new home and your belongings before meeting with an insurance agent. This preparation can lead to a smooth shopping experience, as well as help your agent find the right policy options and accurate quotes based on your home and your needs. To make the process a bit simpler, we've created a home insurance checklist that includes information you may need on hand when searching for a policy.
As you can see, there are a few different types of information necessary for the process. Let's explore them further:
Personal information
Your agent will first need to know some basics about you, such as your occupation and marital status, but they'll also want to learn more about your insurance history. This includes who your current carrier is, as well as a list of any home or auto insurance claims you've filed over the past five years.
Information about belongings
Beyond covering your home itself, homeowners insurance can also encompass what's inside the home, including pets and personal belongings. Pets are relevant because your policy may cover claims for incidents involving your animals (for example, if your dog bites a guest). Certain dog breeds, however, may be excluded from coverage, which is why our home insurance checklist includes a specific question about breeds.
Homeowners insurance also typically includes protections for personal property, or the items in your home. This can include clothing, appliances, furniture and other common possessions, but keep in mind that your policy may not cover certain valuables, such as artwork and jewelry. Read through this article to learn more about belongings that may require special coverage.
Information about your home
Finally, an insurance agent will have some questions about your new home. Details like the address, model, square footage and bathroom count are all useful, as is information about special features in the house, such as RV garages or fireplaces. Additionally, the agent may ask you about occupancy and usage. A primary residence home will likely require different coverage than a vacation home or rental property, and policy options may also differ if you plan on operating a business out of your house.
A final note
Once you've provided the necessary information for your agent, you'll also want to ask them some questions—for instance, what savings opportunities are available to you. Depending on the carrier, there may be several ways you can lower your rates, including bundling home and auto insurance, having a monitored home alarm system and moving into a new construction house. Be sure to ask your agent about relevant savings options for different policies.
If you're ready to shop policies, our affiliate can help you find a home insurance policy that fits your unique needs. American Home Insurance Agency, Inc. agents can save you time and energy by gathering estimates from a range of reputable carriers, so you can compare your policy options. Plus, since these agents work with Richmond American homeowners every day, they'll likely know all about your home and what's needed to insure it, further streamlining your shopping experience. To learn more, visit their website or call 720.528.2236.
Looking for more info about homeowners insurance?
We've created a helpful guide that answers your biggest questions!