Whether you've been a real estate agent for 10 days, 10 months or 10 years, it's never a bad time to brush up on old skills and learn a few new ones. While there's a plethora of educational resources out there—from podcasts to YouTube channels to in-person courses—books will always be a tried and true method of personal development.
But where do you begin? Because there are so many books for real estate agents available, it can sometimes be difficult to sift through the options and find the most valuable information. To help you narrow down that TBR (to-be-read) list, we've gathered six suggestions to get you started.
Worried you won't have time to read? Try these tips:
Bring a book in your briefcase or purse and pull it out when you find pockets of extra time throughout your day. You'll be surprised at how often the opportunity arises—your morning commute on the train, waiting at the doctor's office or even arriving early to a meeting.
Block out 10 to 15 minutes in the morning or evening just for reading. Picking up a book is a great way to start or end the day and can be a productive alternative to scrolling through emails right when you get up or falling asleep to the TV at night.
Find a reading partner! Having a friend or coworker to discuss a book with can be excellent motivation for actually finishing it. Plus, you have someone to hold you accountable (and vice versa).
Consider audiobooks instead of physical copies or eBooks. This opens up new possibilities for when and where you can read. Knock out a chapter or two while you're driving, cleaning up, cooking dinner or even walking the dog.
by Gary Keller, with Dave Jenks and Jay Papasan (2004)
You've probably heard of this best-selling book already, and for good reason—it's a foundational read for both new and experienced agents alike. Gary Keller uses interviews and personal experience to outline tips and techniques for building a lucrative real estate business and regularly earning over $1 million. Despite the title, the key lesson of The Millionaire Real Estate Agent focuses less on the money itself and more on the idea of achieving excellence in your career.
Length: 368 pages
About the author: As a co-founder of Keller Williams Realty International, Gary Keller is no stranger to real estate, and he grew his business to become one of the largest real estate companies in the world. From there, he took his years of experience and passion for teaching and began helping agents and entrepreneurs find extraordinary success in their own work. Besides writing several popular books, Keller also teaches seminars across the country and was a finalist for Inc. Magazine's Entrepreneur of the Year in 2014.
by Gary Keller, with Dave Jenks and Jay Papasan (2008)
The ability to stay agile in a constantly changing market is a valuable skill, especially in the current environment. Shift reveals 12 strategies for navigating difficult times in the real estate market, including Master the Market of the Moment, Do More with Less and Get Real, Get Right. These tactics can help agents transform their thoughts, actions, focus and results for the better, regardless of the state of the market.
Length: 200 pages
More by Gary Keller: Check out The ONE Thing for valuable advice on productivity, focus and success. Discover his other books at kellerink.com.
by Brandon Mulrenin (2021)
It's important to remember that real estate agents are also salespeople and, as such, they encounter similar difficulties—namely, the challenge of convincing potential customers/clients to trust them. To combat this challenge, Brandon Mulrenin developed the Reverse Selling Method, which he details in this book. Readers will find practical advice and strategies for altering their mindset around sales, changing the way prospects respond and developing better relationships with clients.
Length: 156 pages
About the author: Beginning as a mortgage loan officer with Quicken Loans, Brandon Mulrenin eventually made the leap to real estate and was later recognized as the #1 listing agent for Keller Williams Premier in 2014. According to his website, he began training other real estate agents using his Reverse Selling Method before opening his own real estate brokerage firm in 2018, which grew into one of the fastest growing independent real estate brokerages in the United States. Learn more about Mulrenin and his Reverse Selling training and coaching programs at reverseselling.com.
by Karin Carr (2019)
If cold-calling is a challenge for you, what other options are available for marketing your business and generating leads? According to Karin Carr, YouTube might just be the solution you're looking for. In YouTube for Real Estate Agents, Carr explains the many benefits of this free platform and teaches readers how to effectively leverage their channel in order to attract more clients.
Length: 92 pages
About the author: A Realtor® since 2005, Karin Carr has changed the game when it comes to online marketing for the real estate industry. Carr now focuses on helping other agents and brokerages transform their businesses using her innovative strategies, and serves as a sought-after motivational speaker, an online coach and a popular digital creator. Check out her YouTube channel for more advice on real estate and video marketing.
by Kevin Ward (2016)
Conversation is key for real estate agents, and they typically want their conversations to end in a "Yes." In The Book of YES, Kevin Ward offers agents valuable tools for improving their conversations and getting more buyers to say "YES." He provides a total of 27 scripts covering a wide range of scenarios, each one tested and perfected by Ward himself, and sets readers up with a solid foundation for making those scripts work for them.
Length: 152 pages
About the author: Kevin Ward learned the hard way that, in the world of real estate, not all conversations end in "Yes." Over years of working, failing and learning as an agent, Ward developed an approach to selling homes that led to more successful conversations with his prospects and clients (and over 100 homes sold each year). Now, Ward is committed to sharing his approach with others and training agents to create the life and business of their dreams. Find his other resources and services at yesmasters.com.
by Pat Hiban (2011)
Looking to maximize your value to clients? This book provides actionable strategies for doing so, as well as clear steps to reach your earning potential. Written by Pat Hiban, 6 Steps to 7 Figures combines motivational advice and practical tips to help real estate professionals leave the "workaholic" lifestyle behind, build their business and enjoy financial freedom.
Length: 216 pages
About the author: After achieving the ranking of number one real estate agent in the world with both RE/MAX and Keller Williams, as well as earning the coveted "Billion-Dollar Agent" title, Pat Hiban dedicated himself to sharing his knowledge. Hiban is the founder of Rebus University, an online real estate school, and in 2014 launched the Real Estate Rockstars podcast, using his decades of experience to help other agents find success in their careers.
Continued growth and education is important at any stage of your career, and we hope this list of books for real estate agents serves as a helpful starting point. For those who are auditory learners, we've also compiled a few real estate podcast suggestions, along with a convenient playlist!
Looking for reading material on selling new homes?
We have a guide for that!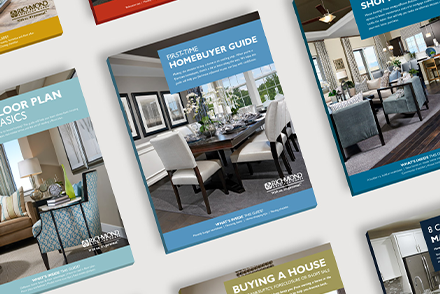 A final word from our legal team: This list is intended for entertainment and informational purposes only. None of these materials should be used as a substitute for professional financial or business advice. They provide general information only, which may not apply to your individual circumstances. The opinions and ideas presented belong solely to the authors and publishers. The authors featured on this list are not affiliated with, sponsoring or endorsing Richmond American Homes or M.D.C. Holdings, Inc. or this list.