Congratulations on your decision to buy a new home. Read on to learn how to make it your own with an array of exciting design options!

Perhaps the most exciting part of building a new home from the ground up is the freedom you have to personalize it (or at least that's what many of our customers tell us!). But how do you get from bare drywall to dream home? This is a common question, especially among first-time homebuyers and those who are new to new construction.
A lot of the home design process will hinge on the options your homebuilder offers and the design assistance they provide. Some builders offer only a handful of stock cabinet, countertop, fixture and flooring options. This can make the selection process easy, but you may find yourself sacrificing some of the key design elements you had hoped to incorporate in your new abode. Other builders, like Richmond American, allow you to select even the smallest details—from the backsplash tile to the knob on your front door—with the help of a professional design consultant.
Wherever your new home falls on the personalization spectrum, these three tips can help you get the most from your design center visit, and from your homebuying budget.
Know what is included
Not all homebuilders are created equal. What's standard for one may be an upgrade for another. So, before you get wrapped up in flooring samples and paint swatches, ask your builder about the basics:
What appliance brands and colors are available?
What types and shades of flooring are included?
What countertop materials and colors can you choose from?
Do you have a choice of finishes for your fixtures?
How many paint color options do they provide?
Once you know everything that's included in the base price of your new home, you'll be able to start deciding which features are acceptable, and which you'd prefer to upgrade.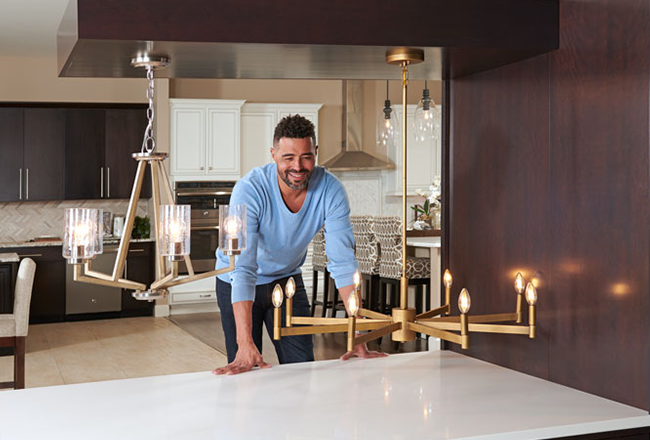 Regardless of your homebuilder, commonly upgraded features may include:
Backsplashes
Cabinetry
Countertops
Flooring
Lighting
Paint
And more (e.g., landscaping, home theater system, security system)
Prioritize your wish list
Unless you have an unlimited budget, you'll probably have to balance what you want against what you can afford in your new home. Don't let that spoil your fun! A good design consultant can often help you achieve the look you're after, even if your first choice isn't in your price range. For example, there are many types of flooring available that mimic the appearance of hardwoods but cost a fraction of the price. Also, be sure to ask what kind of design assistance your builder offers.
Creating a prioritized wish list before you design your home at the design center will help keep you on track when you have to start making those hard decisions. Identify which items are most important to you, where you're willing to be flexible and what you can live without.
Before you head to your design center consultation, you may want to do a little homework. Many of today's homebuyers seek inspiration from sources like:
When prioritizing your wish list, be sure to include your spouse, children or other members of your household in the process, so they'll feel just as much at home as you will.
Also, keep in mind that some home features are easier than others to upgrade or install later (when you will have to make alternate living arrangements or reside in a construction zone). So, consider putting major decisions like countertops, cabinets and built-in home technologies toward the top of your list. Rolling a gourmet kitchen or deluxe bath into your initial home loan could save you the hassle of remodeling a few years down the road.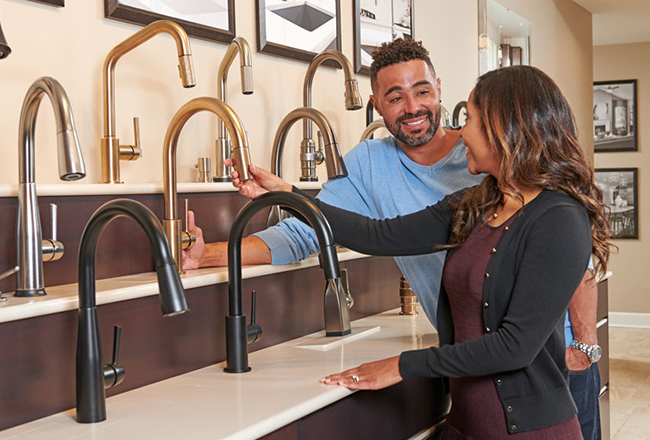 Strike the right style/lifestyle balance
You want your new home to be equal parts form and function. So, as you weigh your options, keep livability in mind. Planning to have young children in the house? Perhaps you should check the stain resistance of that countertop. Hardwood flooring may be appealing, but some types may not be the best choice for pet owners. It's easy to fall in love with design details that don't match up to the wear and tear your family will dish out, so be sure to ask questions about each product's durability, warranty and maintenance requirements.
With the right preparation, expectations and attitude, your design center visit can be an exciting, rewarding experience.
Building a Richmond American home
At Richmond American, we believe that every new home should be as unique as its residents. That's why we offer hundreds of exciting options from popular national vendors, such as Daltile, Sherwin-Williams®, GE® and more, to bring our homebuyers' visions to life. You won't find cooker-cutter homes in our lineup (and that's saying a lot, considering we've built over 230,000 homes)!
Our design process begins at our sales centers, where buyers can select any structural options (e.g., gourmet kitchen, extra bedroom in lieu of a private study, covered patio), they'd like to add to their new home. At this time, they can also choose from a variety of exterior options (e.g., brick or stone accents, a covered front porch). Please note that selections may vary by community and floor plan.
Later on, they will have the opportunity to work hand-in-hand with a professional design consultant from our Home Gallery™ to choose colors, textures, finishes and fixtures for their new living spaces. The design consultants offer guidance to make sure all selections are professionally coordinated and on budget. This complimentary service is available to everyone who builds a brand-new Richmond American home from the ground up!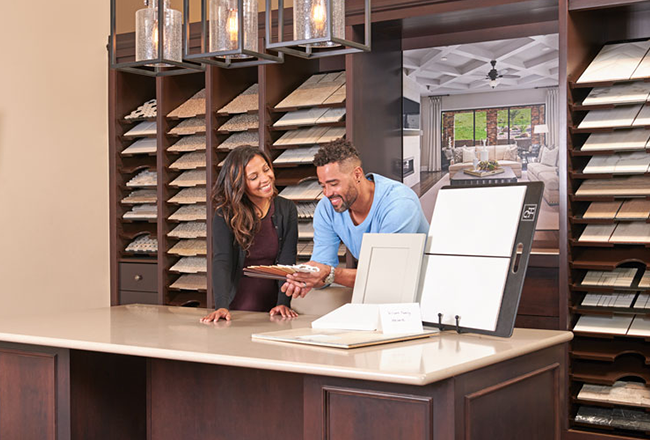 A few additional things to note about Home Gallery™ consultations:
Seeking a style that's timeless? Tend to keep up with the latest trends? Our design selections range from classic to contemporary, and our professional design consultants can help homebuyers home in on their personal style and achieve the design aesthetic they are seeking.

Concerned that the paint on the walls might not complement the kitchen cabinets? All of our Sherwin-Williams® paint colors and other finishes are conveniently grouped into color studios to help eliminate any guesswork when it comes creating a cohesive color palette throughout the home.

Seeking low-maintenance options? Our designers can also fill homebuyers in on any special care instructions that may be required for the finishes they have selected (e.g., countertops, flooring).

Want to go beyond the basics? Homebuyers will select their flooring, cabinets, countertops, faucets and light fixtures during their design center appointment. But they will also have an opportunity to choose other features, such as doors hardware, trim, stair railings, window treatments, whole house audio and even home theater and security systems.

But that's not all! In select regions, homebuyers can review electrical options, such as outlets and prewires, as well as solar choices, during their design center appointment.
Want to learn a little bit more about Richmond American's home design process? Check out our Your Design Experience flip book and this introductory video.
Following are some additional resources that may aid in your homebuying journey:
If you have purchased a Richmond American home, we welcome you to the club and hope that you take the time to truly enjoy the home design process. With a little preparation and imagination—and some assistance from your knowledgeable design consultant—you can create beautiful, inviting living spaces that you and your loved ones can enjoy for many years to come!
What you need to know about new home construction
Learn what to expect from contract to closing and beyond with our free guide.
If you haven't yet found your dream home, we'd love to help with your search! We offer a variety of inspired ranch, two-story and three-story homes, including some popular home collections in select areas. Call 888.799.8322 or visit RichmondAmerican.com to learn more about our communities and homes near you.