Finding a resale home that checks all the boxes on your clients' wish list? Good luck!
Finding a floor plan that clients can personalize with their choice of cabinets, countertops, flooring and more?  Good business.
If you're looking for ways to wow your clients and earn their repeat business and referrals, it's time to make the Richmond American Home Gallery™ a part of your sales strategy.
What's the Home Gallery™?
It's a boutique-style design center that's unlike others in the homebuilding industry. There, buyers who choose to build a new Richmond American home from the ground up select the interior design options that fit their personal taste and lifestyle—all in a showroom setting!
From the moment your clients walk through the door, they'll be dazzled by the array of flooring, cabinetry, faucets, lighting, door knobs, stair railings, countertops and other home features on display. They'll have a chance to touch and try many of the materials that can be a part of their finished home—a huge plus for buyers who have trouble envisioning a house that hasn't been built. We've even created model room vignettes to serve as inspiration!
How does the personalization process work?
Some homebuyers may be intimidated by the thought of having hundreds of design options at their fingertips; others may see it as their dream come true. Believe it or not, we've developed a system that delights both ends of this spectrum!
Within seven days of contract, your clients should receive a call from their personal design consultant to:
Outline the design selection process, including our deposit policies
Go over our range of products, their benefits, features and price points
Schedule a face-to-face appointment at the Home Gallery™
If your clients want you to attend their Home Gallery™ appointment, you're welcome to do so. How involved you'd like to be is up to you and your clients!
On appointment day, the design consultant will interview your clients before breaking out the swatches and samples. A favorite vacation destination, furniture likes and dislikes, whether your client has small children or large pets; personal details like these can give a designer insight into not only the colors and styles that will appeal to the buyer, but also the level of product durability they'll need in day-to-day use.
Pro tip: Encourage your buyers to bring in photos of rooms they like and a list of their must-haves (including home technology!). If they need inspiration, send them to our Pinterest account.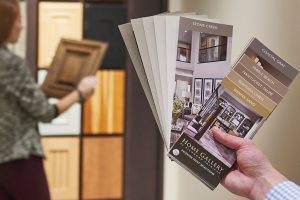 Once the designer has a good feel for what your clients are looking for, he or she will introduce them to our color studios—groups of products that have been hand-selected to coordinate with each other, no matter the combination. Buyers drawn to warmer golden tones may decide to start browsing in the Bermuda Linen color studio, while fans of gray may opt for our Stone Creek or Coastal Gray selections.
These carefully curated collections help our design team quickly narrow down the wealth of available options and home in on a look your clients will love. For buyers who've been waiting for a chance to set their inner HGTV star free, there are still dozens of details to explore within a color studio. They won't have to wonder if the Crema Marfil backsplash tile they adore will clash with the Saddle finish of the cherry cabinets they've chosen—we've taken out the guesswork!
For clients who'd prefer to let a designer take the wheel, our consultants are happy to make suggestions. The Home Gallery™ experience should be an exciting time for your buyers. We want them to have fun throughout the process and leave with a feeling of confidence in their choices.
By the end of the appointment, the design consultant should be able to create a final presentation of your client's design selections. This will include a line-by-line review of each chosen option, plus product information, including care and maintenance. Once the selections have been approved, your client will receive a Home Change Order to sign, which will finalize their choices. After this point, changes typically can't be accommodated, so make sure your clients review this document carefully.
The elevator pitch (for our skimming audience):
The Home Gallery™ is a win-win. Your clients get to pick all the details that will make their home uniquely their own…in a spectacular showroom setting…with the support of a personal design consultant. You get the credit for introducing them to this fabulous process, which opens the door to referrals and repeat business down the road. It's worth your time to familiarize yourself with this incredible sales tool. Find a Home Gallery™ in your area now, and call to schedule a tour.