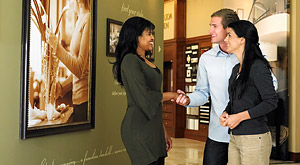 The most exciting part of building a new home is the freedom you have to personalize it. But how do you get from bare drywall to home at first sight?
A lot will hinge on the options your homebuilder offers and the design assistance they provide. Some builders offer only a handful of stock cabinet, countertop and flooring options. Others, like Richmond American, allow you to select even the smallest details—from the backsplash tile to the knob on your front door—with the help of a design consultant.
Wherever your new home falls on the personalization spectrum, these three tips should help you get the most from your design center visit, and from your homebuying budget.
Know what comes standard.
What's standard for one homebuilder may be an upgrade for another. Before you get wrapped up in flooring samples and paint swatches, ask about the basics. What appliance brands and colors are available? Do you have a choice of finishes for your fixtures? Once you know everything that's included in the base price of your home, you'll be able to start deciding which features are fine, and which you'd prefer to upgrade.
Prioritize your wish list.
Unless you have an unlimited budget, you'll probably have to balance what you want against what you can afford. Don't let that spoil your fun! A good design consultant can often help you achieve the look you're after, even if your first choice isn't in your price range. Be sure to ask what kind of design assistance your builder offers.
Creating a prioritized wish list before your design center visit will help keep you on track when you have to start making those hard decisions. Identify what's most important to you, where you're willing to be flexible and what you can live without. Be sure to include your spouse, children or other members of your household in the planning process, so they'll feel just as much at home as you will.
Some home features are easier than others to upgrade or install later, so consider putting major decisions like countertops, cabinets and built-in home technologies toward the top of your list. Rolling a gourmet kitchen or deluxe bath into your initial home loan could save you the hassle of remodeling a few years down the road.
Strike the right style/lifestyle balance.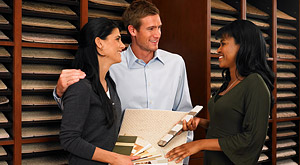 As you weigh your options, keep livability in mind. Planning to have young children in the house? Perhaps you should check the stain resistance of that countertop. Cork or bamboo flooring may further your green living goals, but they may not be the best choice for pet owners. It's easy to fall in love with design details that don't match up to the wear and tear your family will dish out, so be sure to ask questions about each product's warranty and maintenance requirements.
With the right preparation, expectations and attitude, your design center visit can be an exciting, rewarding experience. Want a sneak peak at what you'll enjoy if you personalize a new Richmond American home? Visit the Home Gallery section of our site!