As more and more neighborhoods are built as planned communities with shared amenities, more and more homeowners are finding themselves part of a homeowner association (HOA), sometimes called a planned community association.
If a community has an HOA, homeowners automatically become members in the community's homeowner association when they purchase a home. Membership in an HOA requires that you pay a fee, usually monthly or yearly.
What are HOA fees used for?
HOA fees often go toward common area maintenance and help ensure that the neighborhood stays well kept. The fees may also allow you entrance into the community rec center, fitness center or pool, if your neighborhood has those amenities. In low-maintenance communities, fees may cover snow removal and lawn care.
HOA fees vary immensely from state to state and from community to community. When you are shopping for a new home, find out the sum of the fees up front so you can accurately assess your monthly budget before you purchase. Be sure to ask what the fees include so there are no surprise expenses at closing or after you move. In addition to monthly or yearly dues, there may be a one-time reserve or capital contribution and/or a transfer fee that is typically paid at closing.
HOA FEE CHECKLIST
What do your fees include?
Landscaping/care of the grounds
Community pool
Tennis courts/sports courts
Care for parks and trails
Pest control
Catastrophe insurance
Waste/snow removal
Cable TV
Utilities
Emergency reserves
Other ______________
Beyond the fees themselves, if you're moving to a community governed by a homeowner association, you'll want to ask about design guidelines, regulations and restrictions. Your HOA may have rules about what types of businesses you can run out of your home. There may also be regulations for building outside structures, painting your home bright colors, parking and more. These rules are designed to keep the community looking attractive and well-maintained, which will hopefully help with the resale value of your home down the road.
Check out these additional resources for homebuyers:
Ready to start your house hunt?
A "seller's market" doesn't mean that you have to give up on your dreams! Get tips to help you land your dream home in your preferred neighborhood!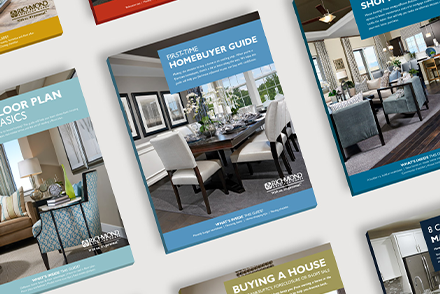 Haven't found your new neighborhood yet? Browse floor plans and communities here.