Do you have clients currently weighing their options in terms of building new versus buying a resale property in their home search? If so, you should clue them in on this lesser-known benefit of going with new: freshly built homes typically have lower insurance premiums than their older counterparts.
Many factors are used to determine homeowners insurance rates, including the home's location, risk factors (e.g., swimming pools and trampolines on the property) and, of course, the buyer's credit score. But also important are the age of the home and its type of construction.
Brand-new homes are built with brand-new materials, including modern plumbing, wiring and HVAC equipment. Your clients should understand that new homes are generally in better shape than resale homes, and therefore typically pose less of a risk for insurance companies. That's a difference your buyers should definitely see in their insurance premiums.
Additionally, new homes are usually backed by homebuilder and manufacturer warranties. For instance, Richmond American homes generally include a 1-year limited warranty on stated material and workmanship, a 2-year limited warranty on stated systems and another limited warranty on major structural items.*
As you know, if your client makes an offer on a resale home, he or she may be left with little to no remaining warranty and mounting repair bills—plus higher insurance premiums. Although this is not necessarily the case with all homes, it's something you'll want to make buyers aware of before you start touring properties.
Bonus tips for your buyers!
Ask about discounts on homeowners insurance for recently purchased homes.
Due to the pandemic, many carriers are currently offering a significant discount on homes that have been purchased within the past 12 months. A licensed insurance agent should be able to help your clients find out if they can take advantage of those savings.
Check out the policy's inflation guard.
Inflation guard is a component of a homeowners policy that automatically adjusts the home's replacement cost valuation annually to keep up with rising costs of labor and materials. This has become increasingly important for homeowners, particularly recent homebuyers, given that homes are insured based upon their replacement cost—which would be high at the moment due to above-average inflation, supply chain issues and labor shortages. For information about homeowners insurance, including an estimate, buyers can contact an insurance specialist from our affiliate, American Home Insurance Agency, at 888.325.8108.
Visit a Sales Center for details on the terms, conditions and limitations of the limited warranty provided in connection with the purchase of a Richmond American home or to view the documentation. For more information about communities and homes in the area you serve, call 888.996.3060 or visit RichmondAmerican.com.
Local New Home Expertise
When shopping for a new home, it helps to speak with a local. Find out which neighborhoods have dog parks, ranch floor plans, RV garages—whatever is on your clients' wish list!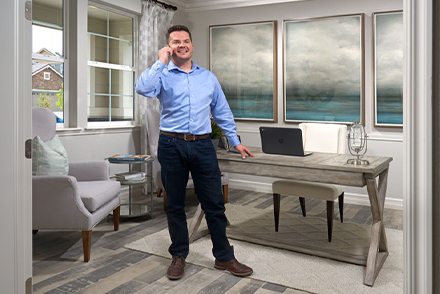 *Warranties are subject to terms, conditions and limitation. See a sales associate for details on the limited warranty provided in connection with the purchase of a Richmond American home.