In honor of Mother's Day, we're taking a leaf from Mom's playbook and passing along some advice for creating a place you're happy to come home to.
1. Let your personality shine through.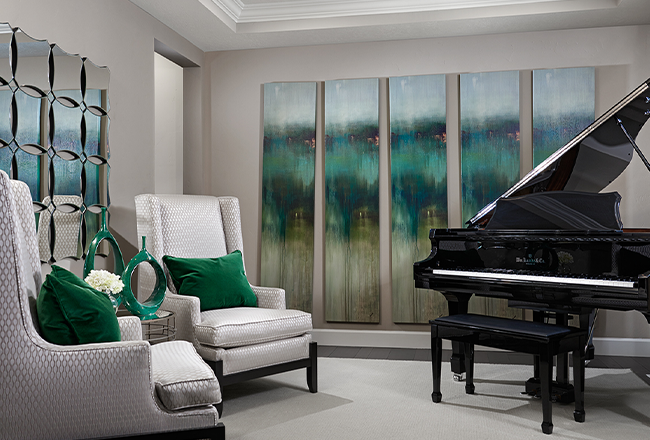 Your home should reflect the things that are most important to you. Love to travel? Display your snapshots and mementos! Devoted bookworm? Give your library pride of place. Doting parent (or grandparent)? Handmade cards and plaster handprints don't have to gather dust in your closet.
Here are some ways you can celebrate your passions without letting them overrun your décor:
Pick a theme and build it into a gallery wall. Bonus points for eclectic styles and mediums!

Walls aren't just for photos and paintings. Shadow boxes and floating shelves can turn everything from pottery and playbills to textiles and ticket stubs into conversation pieces.

Did you know there are companies that can make custom fabric, wallpaper and tile designs? While there's serious potential for abusing this awesome technology, a few tasteful personal accessories could help you achieve a homier vibe.

Look for furniture or shelving that can help you stay organized, but also add to your room's atmosphere.

Don't be afraid to update! Mixing together old favorites and new finds makes a space more interesting.
Remember, this advice applies to the whole family! Because children's tastes may change more frequently as they grow, consider these additional tips for helping them express themselves in their bedroom design.
2. Give yourself space to do the things you love.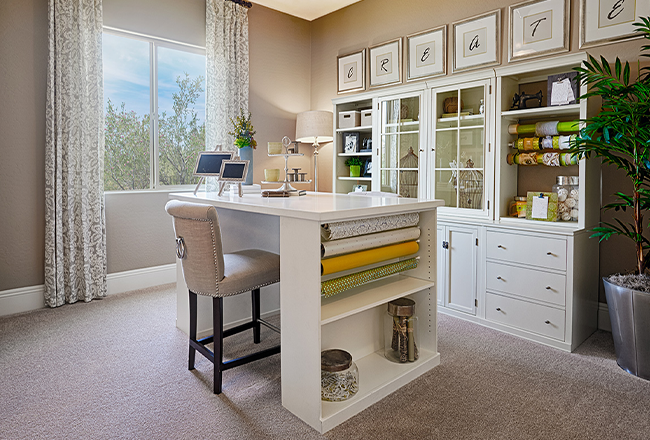 Set aside a designated space for your favorite pastimes, whether that's a craft room, home gym, media room or workshop. It might feel like you're sacrificing square footage you could use for other things, but you may get more joy out of your hobbies, pursue them more often and help contain your materials into one manageable area if you give them the space they deserve.

3. Help houseguests feel at home.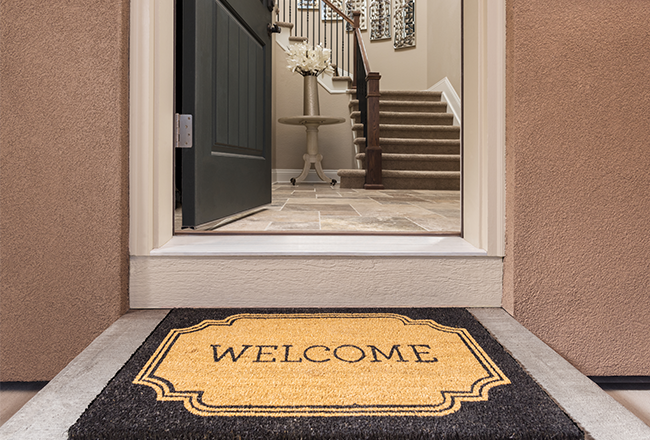 Every room in your home is an opportunity to make your guests feel welcome!
In the entry: Encourage visitors to get comfortable as soon as they step inside by designating a spot to hang coats, stow umbrellas and other accessories and wipe or discard shoes. That goes for the patio door and/or mudroom, too!
In the guest suite: You don't have to arrange a gift basket or a luxury spa kit to let your guests know you're happy to host them (though, who would complain if you did?). Simple gestures, such as posting Wi-Fi login or Bluetooth device pairing info, setting out clean towels in the bathroom, keeping empty hangers on the closet and empty drawers in the dresser, and letting them know where to find spare necessities, like toiletries and phone chargers, go a long way. See other tips for creating an inviting guest room.
In the kitchen: Even if you plan to prepare meals for your guests, giving them access to the kitchen can help them feel more at home. Make sure they know where to find everything they'll need—from utensils to coffee filters—and stock up on snacks and beverages you know they enjoy. Guests will appreciate your thoughtfulness, especially if you accommodate special dietary requirements (gluten-free, dairy-free, vegetarian, kosher, etc.).
In the living areas: Show them how to use your home's entertainment options, including any streaming video or music services you want to put at their disposal. They'd probably also like to know how to use any handy home automation features you have in place, such as voice-controlled lighting or daily news briefings.
Side note: If you're used to buying things through your streaming service or a voice assistant, you might want to enable password protection for the duration of your guests' stay, especially if there are children in the party. How will your sister-in-law feel if her toddler orders 50 seasons of Sesame Street on your credit card? See other childproofing tips.
4. Make memories in it.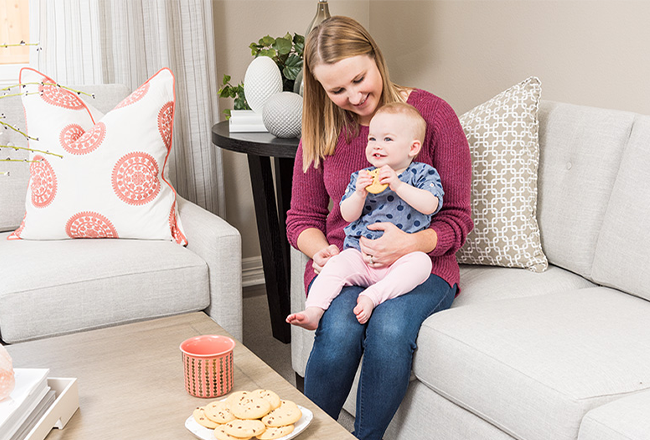 Going out has its charms, but as many of us have learned this spring, there are fun and meaningful activities we can do at home. Here's some inspiration:
Set up a regular game night or movie night. You can even do this with friends in different cities via video chat or streaming watch parties.

Treat yourself with these gifts for homebodies.

Try your hand at gardening or other outdoor DIY projects.

Find your favorite reading spot and curl up with a good book.

Try something new in the kitchen with a meal kit delivery service or a new gadget.
You don't have to scrapbook (or Facebook) these memories; just allow them to build on each other and revisit them as you walk from room to room in your house-turned-home. Thanks, Mom!
Want to use these tips to settle into a brand-new space? We can help with that.
Building a home with us means you'll have a variety of floor plans to choose from—some with exciting options like a flex room or home office, guest suite or RV garage. If you start from the ground up, you can select your home's finishes and fixtures at our Home Gallery™ with complimentary design assistance.
Call 888.500.7060 to speak with a New Home Specialist or search our site for communities and floor plans near you. Virtual appointments are available!